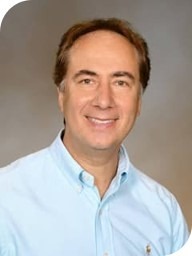 Dear Colleagues,
It is my honor to serve as President of the Pediatric Endocrine Society, Before I present exciting news from our society, I would like to thank Dr. Sharon Oberfield, who worked tirelessly for the past year culminating with an amazing conference where there were 1081 attendees including 7% from other countries beyond North America.
Some meeting highlights included:
Michael Levine, MD, Children's Hospital of Philadelphia received the Judson J. Van Wyk Prize
Richard Auchus, MD, PhD, University of Michigan gave the Lawson Wilkins, MD Lecture
Paul Kaplowitz, MD, PhD, Children's National Hospital delivered the Paul Kaplowitz Lectureship
Joseph Martial, MD, University of Liège, Belgium gave the Del and Beverly Fisher Pediatric Endocrinology History Lectureship
Rodolfo Rey, MD, PhD, Hospital de Niños Ricardo Gutièrrez, Buenos Aires and Annelou L.C. de Vries, MD, PhD, Amsterdam University Medical Center gave the International Plenaries
EDI Initiative Plenarygiven by Nancy Spector, MD, Drexel University College of Medicine
Sharon Oberfield's President Talk
PES Jeopardy! Congrats to our PES Jeopardy Winners! 1st place: Linda DiMeglio, 2nd place: Cara Tillotson, 3rd place: Alexander Karmazin.
Speaking of Jeopardy…stay tuned for one additional Final Jeopardy Question at the end of this monthly progress note.
Call for Committee Participation:
You know of the society and the annual meeting; however, the society is much more.  I encourage you to look up all the committees and special interest groups (SIGS).  If you have passion or just want to find a way to get more involved in the society, contact the chair persons or send me a message if you need more direction.  The PES membership committee, for example, is looking for some additional members!  If you would like to get involved, please let us know here Join a Committee – Pediatric Endocrine Society (pedsendo.org).
Remember that if were a virtual meeting attendee, you can watch the recording of each of the sessions in the meeting platform for 6 months. Please note however, Live CME credit must be claimed by July 1, 2022.
Featured at our 2022 Meeting was a celebration of our 50th Year of the Pediatric Endocrine Society.  We featured both 50th Anniversary Interviews as well as Historical Timelines of accomplishments in each area of pediatric endocrinology.  I encourage you to relax and spend time enjoying both the Interview Highlights, Interviews, and the Timeline Project. Links to view them below.
I look forward to this year and continuing work on the Endocrine Workforce, the EDI (Equity, Diversity, and Inclusion Initiatives), PES/NIH Liaison Committee activities, PedsEndo Discovery, and other programs.  I want the PES to continue to be the voice of the Academic Pediatric Endocrinologist as well as those in Private Practice, and those with a career with aspects of both.
Additionally, over the past year under the leadership of our Board of Directors we have had many collaborations with professional societies and patient advocacy groups to support the health and well -being of all our members and the patients we serve.  PES has been active in opposing health care bans in Alabama, Arkansas, Texas, and other states. Most anti-transgender medical care bills have failed in previous legislative sessions. PES recently signed an Amicus Brief regarding the ongoing Brandt v. Rutledge case brought by the ACLU in position to Arkansas' H.B. 1570 which passed last year and prohibits healthcare professionals from providing TG youth with gender-affirming care. Our hope is our joint efforts with multiple professional societies have helped with the judge's decision to allow transgender youth to receive medical therapy in Alabama.
Considering the increasing number of cases and invitations to support efforts to protect these patients, and to further demonstrate our commitment to keep our members privy to the current climate of these matters of public policy, we will bring the issues to your attention via updates in the president's message each month in a new Public Policy Spotlight feature. This spotlight will highlight recent articles both in lay and academic press that we believe would be of use to our constituents.  We will also record the "sign-ons" or initiatives we have made in the area of public policy.  Please see below for more information.
And now Breaking News and back to the topic of our Annual Meeting, where the Program Committee is already focusing on 2023! 
I am proud to announce that we are going to have an in-person meeting, unless COVID circumstances significantly deteriorate.  While virtual has the advantage of the comfort of the environment of your choice, recordings to allow for flexibility, we all know what we are missing.  I know even as a fellow, the value of a meeting is not just in knowledge acquisition, but in meeting others (in a nice sunny place on the water).
And the Final Jeopardy Question:  Where will our 2023 Conference Occur?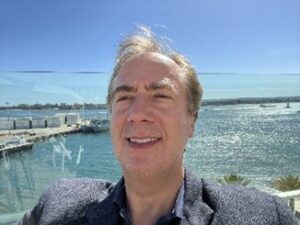 So, with this selfie in mind, I am announcing the location of our first Live meeting ….in Jeopardy Format, "What is beautiful San Diego, California!"
Save the Dates: May 5-8, 2023 (program details coming soon!).
Let's make this an EPIC year, and I am not referring to the EMR.
Sincerely,

Craig A. Alter, M.D.
50th Anniversary Interviews
Our major oral history project lead by Erinn Rhodes is now available for viewing!
Many senior members have been asked a series of questions about their journey into and through a career in pediatric endocrinology. Click on the interviews to hear what the PES has meant to senior members and those in leadership positions in our profession!
Anniversary video: 50th Anniversary Interview Highlights
Individual interviews: https://pedsendo.org/50th-anniversary-interviews/
Timeline Project
The timeline project was designed to codify the rich history of pediatric endocrinology over the past 5 decades, since the creation of the Lawson Wilkins Pediatric Endocrine Society (PES). We have also recorded some of the seminal events in basic, clinical, and translational endocrinology from our adult colleagues that have permitted better understanding and management of endocrine disorders of childhood and adolescence. We were not surprised to note that many members of (Lawson Wilkins) Pediatric Endocrine Society contributed to our ability to diagnose and treat children with endocrine disorders and diabetes mellitus. Each "sub"-specialty has a defined "mini"-timeline. https://pedsendo.org/pes-50-year-anniversary-timeline/
NEW- Public Policy Spotlight
May Public Policy Spotlight – Pediatric Endocrine Society (pedsendo.org)
News from the EDI action team
Juneteenth will be observed on Monday June 20th this year (as June 19th falls on a Sunday), marking the second year that it has been honored as an official federal holiday and an opportunity to continue dialogue about the ongoing effects that the history of slavery has on our society. Read more: Equity, Diversity and Inclusion Initiative – Pediatric Endocrine Society (pedsendo.org)
And the survey says: We have three new open surveys: Please take a few minutes to help your colleagues collect valuable data:
PES QI/MOC Committee Survey
The PES MOC-QI Committee would like to get a better understanding of the QI training, experiences and needs of the PES membership. Your completion of this short survey will allow us to more strategically develop QI materials that would be most beneficial to you. Thank you in advance for your participation.
https://forms.gle/jig11vmkUkswsoaa7
Survey on General Approach of Periodic Screening & GH Treatment
We are conducting a survey of pediatric endocrine clinicians (including physicians and advanced practice providers) who care patients with growth hormone deficiency. Our aim is to understand the general approach of periodic screening for additional anterior pituitary hormone deficiencies in patients with idiopathic isolated GH deficiency and adverse effects related to growth hormone (GH) treatment.
https://llu.co1.qualtrics.com/jfe/form/SV_b7aqDkvm9qDkNaC
Exploring the Impact of Anti-Trans Legislation on Pediatric Endocrinologists
Please consider taking this brief survey (e.g. 5 minutes) entitled Exploring the Impact of Anti-Trans Legislation on Pediatric Endocrinologists to allow us to better understand how the current political climate has impacted practice patterns – regardless if you currently care for transgender youth or not in your clinical practice. This has been approved by the Institutional Review Board at Boston Children's Hospital. https://redcap.link/4zfsthe0
Educational video for new families with an infant with DSD
We are excited to offer a new resource – an educational video about an infant undergoing evaluation for DSD.  This 8-minute video provides a detailed introduction to the concepts related to DSD in the context of a supportive message.  This video provides an invaluable resource for NICU staff, general pediatricians, pediatric residents, and pediatric endocrinologists to use when communicating challenging information about genital development with families. We encourage parents to watch and share this video with family members. PES DSD Teaching Video – YouTube
News from the PES D&T Committee: PES Statement on Thyroid Monitoring in Infants and Young Children Receiving Iodine-Containing Contrast Media
On March 30th, 2022 the FDA released a Drug Safety Communication recommending monitoring of thyroid function in infants and children under 3 years of age within 3 weeks of receiving an injection of iodinated contrast media (ICM) for medical imaging. An FDA warning about the risk of iodine-induced hypothyroidism will be included in the prescribing information of all ICM injections, which is available to patients, parents/caregivers, and medical providers. Read more:
PES Statement on Thyroid Monitoring in Infants and Young Children Receiving Iodine-Containing Contrast Media – Pediatric Endocrine Society (pedsendo.org)
In Memoriam: Dr. Juan Sotos, May 18 1927-May 7, 2022
Dr. Juan Sotos -May 18 1927-May 7, 2022 – Pediatric Endocrine Society (pedsendo.org)
News from the NIH: Another Look at Applications Submitted During the Pandemic: Part 4
By Mike Lauer and Katie Patel
In Part 4 of this series, we continue our look at the 5-year distributions of gender, race, and ethnicity of designated principal investigators of R01 and RPG applications submitted before and after the onset of the COVID-19 pandemic.
Click here for more information: Another Look at Applications Submitted During the Pandemic: Part 4 – NIH Extramural Nexus
The 55th Annual Meeting of the Japanese Society for Pediatric Endocrinology
Date: November 1-3, 2022
Venue: Yokohama, Japan*
Chair: Tomonobu Hasegawa, M.D., Ph.D.
Professor, Department of Pediatrics
Keio University School of Medicine, Tokyo, Japan
For morning information: http://jspe55.umin.jp/eng/index.html
Abstract Submission page: http://jspe55.umin.jp/eng/abstract.html
*It will be a hybrid of on-site at Yokohama + live streaming from November 1st to 3rd, 2022, and on-demand streaming from the end of the live event to mid-December (tentative).
2022 Best Pharmaceuticals for Children Act Priority List of Needs in Pediatric Therapeutics: Request for Nominations
The Eunice Kennedy Shriver National Institute of Child Health and Human Development (NICHD) invites all stakeholders, including researchers, clinicians, physicians, pediatric-focused organizations and associations, patient representatives, and other interested parties, to nominate pediatric research priorities for the Best Pharmaceuticals for Children Act (BPCA) program. Please submit your nominations at the following link:
https://urldefense.proofpoint.com/v2/url?u=https-3A__www.surveymonkey.com_r_BPCAPrioritization2022&d=DwIFAg&c=G2MiLlal7SXE3PeSnG8W6_JBU6FcdVjSsBSbw6gcR0U&r=XaoFulZIvDxdg0DRD1ul8pnfJRJ1QsSyoBrV51niNZw&m=eZ2fbJBJ5PplAMbtV_AKkXPgex9EUNOUqgJwv6shrVo&s=t3Wk0fprhYnZWOg-D8EC8btyDUGNiSszNSAECC8Rs7k&e=
The nomination period is open through July 25, 2022.
Please contact bpca@infinityconferences.com with questions. We look forward to receiving your feedback!
APP Member Spotlight – Lauren Woodward, MSN, CPNP-AC, CDCES
Meet Lauren: May APP Spotlight: Lauren Woodward, MSN, CPNP-AC, CDCES – Pediatric Endocrine Society (pedsendo.org)
Fellow Spotlight – Sabitha Sasidharan Pillai, MD
Meet Sabitha: May Fellow Spotlight – Sabitha Sasidharan Pillai, MD – Pediatric Endocrine Society (pedsendo.org)
History Tidbit: Frederick Sanger (13 August 1913 to 19 November 2013) and the structure of insulin Alan D. Rogol, MD, Ph.D. History Tidbit: Frederick Sanger (13 August 1913 to 19 November 2013) and the structure of insulin – Pediatric Endocrine Society (pedsendo.org)