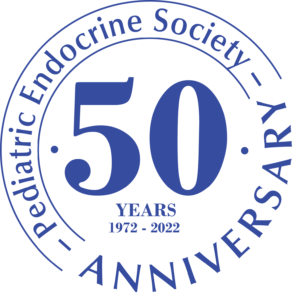 PES is turning 50 years old!
We are excited to celebrate our golden anniversary with all of our peers in Chicago at the Annual meeting April 28-May 1, 2022. As we lead up to the big event, we want to share some of the exciting projects we are working on to commemorate this special milestone of our society!
Timeline Project:
The timeline project was designed to codify the rich history of pediatric endocrinology over the past 5 decades, since the creation of the Lawson Wilkins Pediatric Endocrine Society (PES). We have recorded some of the seminal events in basic, clinical, and translational endocrinology from our adult colleagues that have permitted better understanding and management of endocrine disorders of childhood and adolescence. We were not surprised to note that many members of (Lawson Wilkins) Pediatric Endocrine Society contributed to our ability to diagnose and treat children with endocrine disorders and diabetes mellitus. Each "sub"-specialty has a defined "mini"-timeline and the major goal is to weave all into one grand display at the 50th Anniversary meeting.
Historical Fact Sneak Peek:
Discovery of Mammalian X Chromosome Inactivation (1962)
               Mary F. Lyon discovers the process of X chromosome inactivation in mammals. Lyon studies mouse hair spotting patterns and determines that a female mouse's heteropyknotic X chromosome is genetically inactivated in various cells. The heteropyknotic chromosome can come from either parent and may differ across the body. This allows for diverse inactivation in various cell types during early embryonic development. Lyon hypothesizes that in cases of sex chromosome aneuploidies, X chromosomes in excess of one typical chromosome are inactivated, potentially explaining the variability of individuals with the same sex chromosome aneuploidy.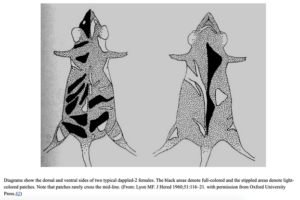 Balderman S, Lichtman MA. A history of the discovery of random x chromosome inactivation in the human female and its significance. Rambam Maimonides Med J. 2011 Jul 31;2(3):e0058. doi: 10.5041/RMMJ.10058. PMID: 23908816; PMCID: PMC3678792.
LYON MF. Sex chromatin and gene action in the mammalian X-chromosome. Am J Hum Genet. 1962 Jun;14(2):135-48. PMID: 14467629; PMCID: PMC1932279.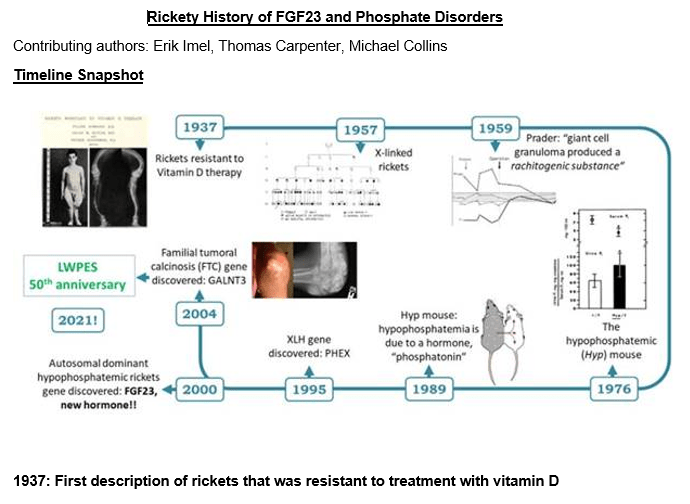 The profound insulin resistance found in PCOS is independent of obesity.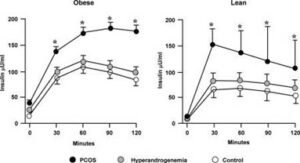 Dunaif A et al, J Clin Endocrinol Metab 1987; 65:499–507.
Insulin resistance in most women with androgen excess is due to mechanisms other than the relatively rare prevalence of anti-insulin antibodies or insulin receptor mutations.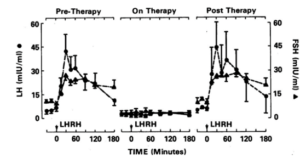 This figure shows the pharmacologic basis for the use of GnRH analogues in patients with precocious puberty. Five girls at a mean age of 5.5 years were treated for eight weeks with subcutaneous leuprolide. Treatment decreased basal and stimulated gonadotropin levels, decreased serum estradiol concentrations, and decreased breast size. Be eight weeks after stopping treatment, all measures returned to baseline.
https://www.nejm.org/doi/10.1056/NEJM198112243052602?url_ver=Z39.88-2003&rfr_id=ori:rid:crossref.org&rfr_dat=cr_pub%20%200pubmed 
ADRENAL GLAND Treating children with congenital adrenal hyperplasia with cortisone
Soon after cortisone became available, two groups of pediatric endocrinologists began treating them: Lawson Wilkins at Hopkins and Frederic Bartter at the Massachusetts General Hospital. Wilkins and Bartter deserve equal credit for this proposal and the clinical trials. Their results were reported a month apart in 1951.
J Clin Endocrinol 1951; 11:1-15
J Clin Invest 1951; 30:237-251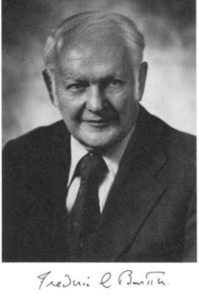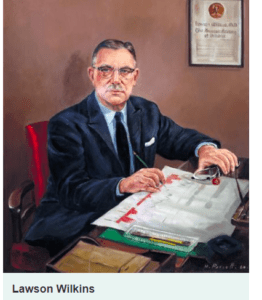 Special Anniversary edition of HRP:
As a second project under the co-editorship of Sharon Oberfield, Walter Miller and Alan Rogol and in conjunction with Hormone Research in Paediatrics, our official journal, a dozen or so of our senior members will spearhead a celebratory special issue of HRP, tentatively scheduled for December, 2022. The individual contributions will consist of historical reports based on major areas of pediatric endocrinology and diabetes. This is a flagship, major undertaking among the authors, the Board, the co-editors, senior members of PES and is strongly endorsed by the journal and its publisher, Karger Publishers. We hope that this issue will become the "go-to" place for anyone seeking the intellectual roots, both basic and clinical, of their particular subspecialty interest in pediatric endocrinology and diabetes.
Video vignettes/interviews:
Finally, we are completing a major oral history project lead by Erinn Rhodes. Many senior members have been asked a series of questions about their journey into and through a career in pediatric endocrinology. It has been exciting to preview some of the statements and hear what the PES has meant to senior members and those in leadership positions. We have close to 40 already and hope to finish 15 or so more.
Stay tuned for updates on these projects – and save the dates, April 27 to May 1, 2022, so you can be a part of the celebration!