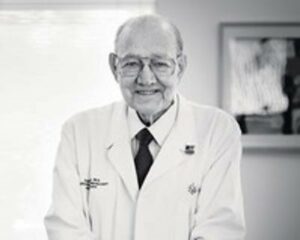 Dr. Juan Sotos –May 18 1927-May 7, 2022
It is with sadness that we share the news of the death May 7th of Dr. Juan Sotos.  Dr. Sotos was truly a Renaissance man.  He attended medical school in Valencia Spain where he also did a 1 year internship before coming to the United States where he did residencies and fellowships at Saint Christopher's Hospital in Philadelphia, Columbus Children's Hospital and Harvard University.  He was Board Certified in General Pediatrics, Pediatric Nephrology and Pediatric Endocrinology.  He served 3 years on the faculty at Harvard Medical School before beginning a 57 year career on the faculty of Ohio State University, Columbus, Children's and Nationwide Children's Hospital.  He served in varying roles as Division and Section Chief for Pediatric Endocrinology, Acting Chief for Nephrology, and Acting Chairman of the Department of Pediatrics.  His research interests spanned the spectrum of Pediatric Endocrinology from cerebral edema in diabetic ketoacidosis to short stature, puberty and, of course, Sotos' syndrome.  He was well known in the Division for asking challenging questions of both fellows and faculty.  He was a founding member of the Lawson Wilkins Pediatric Endocrine Society and served on the Board of Directors.  To many of us he will be remembered as teacher, mentor, colleague, and friend.  He is survived by his 7 children and many grandchildren. 
A Celebration of Life Service will be held on Saturday, May 21, 2022 from 4:00 to 5:00 p.m. at Schoedinger Funeral Home, 5980 Perimeter Drive, Dublin, Ohio. Visitation will immediately follow the service from 5:00 pm to 8:00 pm.
In lieu of flowers, donations to "Nationwide Children's Hospital Endocrinology research" can be made.