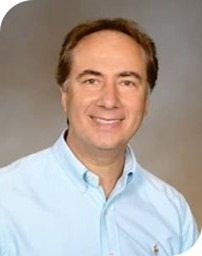 Whether you celebrated Thanksgiving the second Monday of October up North or the Fourth Thursday in the States, it is a time to reflect on family and hopefully enjoy some time together, in person.  Speaking of togetherness, as you may know, the PES Board of eight consists of three Presidents (past, current, and next), Treasurer, Secretary, and three Directors. We are excited to welcome the next President-Elect, from Canada, Dr. Mark Palmert and Director, Dr. Takara Stanley. Takara you may know has helped organize not only many of the Board Review Courses, but currently is one of the Program Committee Chairs working diligently on the Annual Meeting for our first in-person solo Pediatric Endocrine Conference in May 2023.
I present to you two interesting quick cases of mine, both titles starting off with "Thanks ….giving"
Case A:  Thanks for giving me a little extra hair
A father of a two-year-old girl was diagnosed with testicular cancer and after treatment, required therapy with testosterone. The adult endocrinologist offered him the choice of injections or topical therapy.  He chose topical and followed the instructions carefully.  His wife noted a few months later irregular menses, which prompted her own workup. Her testosterone level returned at 150 ng/dL (5.20 nmol/L).  Her astute physician asked if she had any potential exposure to testosterone.  She responded that, well, in her bed, she slept with her husband who is on topical androgens. She then panicked as she looked at her two-year-old who was getting was developing some acne and was "a bit hairier." She then realized that in the bed nightly was her husband, herself, and in between, the daughter. The daughter's testosterone level was about the same as the mother's. Guess what dad switched to?
Case B:  Thanks for giving me a free haircut
I come home after completing all those endocrine notes from a full day's clinic. I thought I answered all my messages only to find a message on my home answering machine. An owner of a hair salon somehow contacted me to ask me about her four-year-old daughter who was all set to have her midline neck "potentially malignant" mass removed by an adult ENT practice. I said I was going to be near her salon so she can just bring in her daughter and a growth chart. The 4-year-old looked overtly hypothyroid and yes, that was no mass but her thyroid. We, as endocrinologists, may not do surgery, but in this case, at least I stopped an unnecessary surgery, and, in the process, said "Thank you for giving me a free hair cut".
I leave you with this view from Manhattan on Thanksgiving.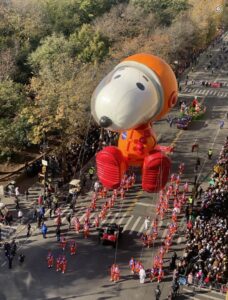 Sincerely,

Craig A. Alter, MD
---
In Memorium: Nathalie Josso, MD, PhD
Nathalie Josso, MD, PhD: 1934 – 2022 – Pediatric Endocrine Society (pedsendo.org)
2023 Election Results
The Chair of the Nominations Committee is proud to announce the results of the 2023 PES Election:
Congratulations to Mark Palmert as the President-Elect, and Takara Stanley as Director.
Abstract Deadline: Monday, December 5, 2022 @ 11:59 PM Eastern
Help shape the program content and elevate the scientific rigor! We invite each of you to submit your work for inclusion via our online portal and to join us in networking with your peers and experts! Deadline December 5, 2022! PES 2023 Abstract Submission (pedsendo.org)
#GivingTuesday

Giving Tuesday is a global day of giving. A day where everyone, everywhere can do something to support the good causes and communities that mean so much to them. PES will be participating, and we need your support! Click here for details
Award Nominations Deadline: December 14, 2022 @ 5:00 PM ET
Judson J. Van Wyk Prize
Robert M. Blizzard, MD, Lectureship
Young Investigator Award
Clinician Award
Educator Award
Senior Researcher Award
*Please note all nominations must be submitted through the online portal (link below)
Click Here for Nomination Requirements & Instructions
Spring Fellows Retreat
PES Membership Deadline: November 30, 2022
Fellows Retreat Application Deadline: Friday, December 8, 2022
For more information and to submit an application: Spring Fellows Retreat – Pediatric Endocrine Society (pedsendo.org)
Board Review Course: May 2 – 4, 2023
The 2023 Board Review Course will take place prior to the 2023 Annual Meeting in San Diego, CA at the Sheraton San Diego Hotel & Marina from Tuesday, May 2 – Thursday, May 4.
View Course Brochure: 2023 Board Review Course Brochure (pedsendo.org)
Drug alerts/recalls from the D&T: Sitagliptin contamination
The Food and Drug Administration (FDA) recently reported the detection of a nitrosamine impurity (Nitroso-STG-19, known as NTTP) in samples of sitagliptin. Read more: FDA notice on sitagliptin contamination – Pediatric Endocrine Society (pedsendo.org)
MAP Spotlight: New Rapid-Acting Insulin Approved for Kids with T1D
The FDA recently approved an expansion of the indication for Eli Lilly and Company's rapid-acting mealtime insulin Lyumjev® (insulin lispro-aabc) injection to include the improvement of glycemic control in children with diabetes. Lyumjev can be administered subcutaneously either at the start of a meal or within 20 minutes after starting a meal, or as a continuous subcutaneous insulin infusion (CSII) with an insulin pump. Read more. Eli Lilly is part of the PES Mission Alliance Partnership. This announcement was prepared in compliance with PES guidelines to ensure objective educational content.
Congenital Hyperinsulinism December Research Days
Congenital Hyperinsulinism is hosting the Congenital Hyperinsulinism December Research Days. From December 2, 2022, until January 2, 2023, we will feature recorded presentations, booths, and posters highlighting the latest congenital hyperinsulinism research and resources from around the world. We will be sharing content from leading experts in the congenital hyperinsulinism community! We will cover topics such as medication management, CGMs, updates from the collaborative research network, and the natural history of HI. We are particularly thrilled to share cutting-edge content like a preview of the HI Guidelines from Dr. Paul Thornton and a presentation on the discovery of a new genetic cause for congenital hyperinsulinism, HK1, from Sarah Flanagan, PhD Learn more and register here: https://congenitalhi.org/2022-congenital-hyperinsulinism-december-research-days/
NEW EDI Movie Night! Save the date and watch the film: Crip Camp
Grab some popcorn and curl up with a good movie over the holidays and plan to join us on January 10, 2023, at 8:00 PM Eastern Time (US and Canada) for discussion. Movie: Crip Camp Crip Camp | A Disability Revolution
Register in advance: https://zoom.us/meeting/register/tJAqcuqtqjosGteWHRJCwMMQSe2dhUTL1euU
After registering, you will receive a confirmation email containing information about joining the meeting.
Equity, Diversity and Inclusion Taskforce
As pediatricians, please remember:  December is National Safe Toys and Gifts Month
December has numerous celebratory events frequently associated with gift giving.  Let us recognize this diversity in the ways we celebrate for all encourage safe toys and gifts.  
Kwanzaa: Annual celebration of African American culture from December 26 to January 1 based on African harvest festival traditions from different parts of West and Southeast Africa. A seven candle mat representing the principles of Unity, Self-determination, Collective work and responsibility, Cooperative economics, Purpose, Creativity, and Faith.  Kwanzaa | National Museum of African American History and Culture (si.edu)
Chanukah: The eight day holiday reaffirms the ideals of Judaism and celebrates the recovery of Jerusalem and rededication of the Second Temple after the Maccabean Revolt, in which the Maccabees fought to defend their religious beliefs.   https://www.britannica.com/topic/Hanukkah.
Christmas: A celebration of the birth of Jesus in the Christian faith.  https://www.britannica.com/topic/Christmas
Congratulations to the 2022 RSA Winners and first Raphael David Rising Star Award
Michelle Meder from University of Utah was selected as the recipient of the of the first Raphael David Rising Star Award for her abstract "Assessing Conflict and Regret in Decisions Regarding Fertility Preservation in a Transgender Population." Congratulations to Michelle and all the Rising Star recipients.
Rising Star Award – Pediatric Endocrine Society (pedsendo.org)
Fellow Spotlight: Dr. Jody Grundman
Meet Jody:
https://pedsendo.org/member-spotlight/app-spotlight/october-app-spotlight-erica-cordelNovember Fellow Spotlight – Jody Grundman, MD – Pediatric Endocrine Society (pedsendo.org)
History Tidbit: Dr. David Marine (20 September 1880 to 6 November 1976) and Nal as goiter prophylaxis:
Submitted by Alan D. Rogol, MD, PhD
Historical Tidbit: Dr. David Marine (20 September 1880 to 6 November 1976) and NaI as goiter prophylaxis – Pediatric Endocrine Society (pedsendo.org)