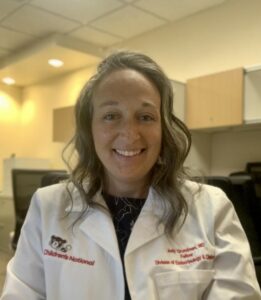 Jody Grundman, MD
I am currently a third-year pediatric endocrine fellow at Children's National Hospital in Washington DC. I completed my Bachelor of Science degree at McGill University in Montreal Quebec Canada, my Masters of Public Health at Boston University, my medical degree at Ben Gurion University in Israel, and my pediatric residency at Albert Einstein Medical Center in Philadelphia PA.
My current clinical and research interests are related to health disparities in type 1 diabetes. With the support of the American Diabetes Association Health Disparities Postdoctoral Fellowship Award, I am conducting a prospective cohort pilot study that implements shared medical appointments (SMA) to support the uptake and sustained use of continuous glucose monitors (CGM) among 20 publicly insured non-Hispanic Black and/or Latinx youth and their caregivers, who historically have poorer glycemic control, higher rates of diabetes complications, and are least likely to access diabetes technologies. We anticipate that an inter-professional model incorporating diabetes educators, psychologists, and dietitians in a group setting will offer a supportive community and an ideal environment to optimize CGM uptake and sustained use, as well as improved glycemic control and health-related quality of life.
My experiences as a person living with T1D have guided my clinical and research interests in diabetes management and health disparities. I learned early on that even the strongest and most determined child needs supportive adults in order to thrive. I continued to see this during my Master of Public Health at Boston University and healthcare work with marginalized populations in the Middle East and rural India while at medical school. My time training as a pediatrician in inner city Philadelphia strengthened my resolve to continue addressing the disparities that affect the health and well-being of children.
I was afforded an exceptional mentor in Dr. Brynn Marks, a pediatric endocrinologist with a strong interest in T1D research and medical education. I have also had the privilege of working closely with Dr. Majidi as a member of the Type 1 Diabetes Exchange Quality Improvement Collaborative at Children's National Hospital.