Generous contributions like yours are making the advancement of the Pediatric Endocrine Society mission possible. This support remains vital as we work to implement the member-driven goals and objectives set forth in our strategic plan. Your donation makes it possible to continue to provide our members with the necessary tools and resources to better serve their patients and families. Thank you! 
Help us make a difference! 
You may donate to any of the following funds: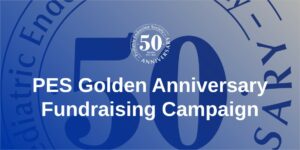 This year marks the 50th Anniversary of the founding of our society! With a membership of over 1500, we are committed to our vision of being the professional home and voice of Pediatric Endocrinology in North America and advancing and promoting the endocrine health of children and adolescents.
To commemorate our 50th anniversary, we have begun the $50-for-50 fundraising drive. We are asking each of you to consider a tax-deductible contribution of $50 to the Pediatric Endocrine Society. To kick off this celebratory drive, each member of the PES Board of Directors has made a donation.
We are proud to announce that revenue from the $50-for-50 program will support our strategic priorities like programs to strengthen the workforce pipeline and efforts in the area of diversity, equity, and inclusion. Donations in multiples of 50 are very welcome and encouraged!
Your support for these PES initiatives will help us positively impact the endocrine health of children and adolescents!