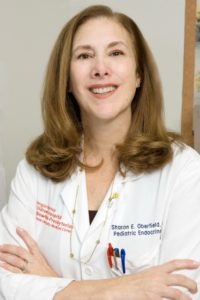 Dear PES members,
As I review the listings and notices below regarding upcoming activities, I am amazed at how active we were this summer and will be this fall due to the energy and vitality of our community. September, the start of autumn, has been a month that noted the 20-year anniversary of 9/11/2001.  I personally will never forget that day as I was with a family whose father perished that morning in the Towers. We also noted the withdrawal of troops from Afghanistan, the devastation of the Eastern seaboard by Hurricane Ida- with unimagined deaths and the continued aggressive virulence of the Delta variant. And although fall is just beginning, we cannot deny climate change as the leaves are starting to change colors much earlier this year. We also held our September Board Meeting. I would like to share just a few highlights as the President's letter now is becoming VERY long!
The BOD approved a new consortium to ultimately be run by fellows called the Pediatric Endocrinology Research Fellow Forum (PERFFECT). The facilitators include members from RAC, the Education Committee and our new PES/NIH liaison Committee.  (Spearheaded by Shanlee Davis, Ming Chan, Karla Leavens, Leena Nahata, Katerina Nella and Lisa Swartz Topor.) The goal will be to have 4 interactive virtual meetings of PERFFORM members and faculty  facilitators.  The group will encourage fellows supported by the PES Rising Star award to present and generate the momentum for the group, to start.
The Education Committee reported that Endo 360- launched in 2020 to provide fellows an opportunity to enhance clinical concepts, skills, career development and leadership — will continue these sessions. The Board voted to provide $50.00 for 3 fellows /session to incentivize fellow attendance.  We anticipate about 12 seminars.
The Education Committee is finalizing a video for parents of infants with atypical genitalia. This will soon be available to the membership. It is quite evocative and we thank Selma Witchel and Lauren Heckman for their incredible efforts
The PES/NIH Liaison Committee is working on a 2-year curriculum with multiple sessions with the help of our colleagues in the education committee, RAC and the new PERFFORM group. Our kick-off lecture will be given on October 26th, 7PM by Michael Lauer MD, Director of the NIH Extramural Affairs, "NIH perspective on Extramural Research." SEE BELOW AND DO MAKE EFFORTs to attend. A similar platform for the Endocrine Society was exceptional.
With respect to social responsibility, we reviewed and signed-on/supported a number of position papers, Amici relating to opposition of state and national briefs and or legislative actions that infringe on our ability to practice pediatric endocrinology and care for and manage our children, particularly those with transgender concerns. Many have been forwarded to the Board from the Transgender SIG.  I would like to draw to your attention to this notice from the Endocrine society – provided by Mitch Geffner and hope that this coming year will add more clarity and responsibility to this issue.
UK Court of Appeal Ruling Preserves Access to Gender-affirming Care & Affirms Doctors Should Determine Capacity of a Person Under 16 to Consent to Medical Treatment
The Court of Appeal in the United Kingdom ruled in favor of the Endocrine Society and a coalition of LGBTQ+ youth and reproductive health organizations' intervention in Bell v Tavistock, an important and controversial case concerning treatment for minors presenting with symptoms of gender dysphoria. The ruling preserves access to medical treatment for transgender and gender diverse teenagers and protects the ability of physicians, not the courts, to determine the capacity of a person under 16 to consent to medical treatment. The judgment draws a clear line between matters which can be considered by the Courts and those medical policy issues which have to be left to doctors, medical policy makers within the National Health Service, and, in the last resort, government. The Court referred to the Endocrine Society's Clinical Practice Guideline on Gender Dysphoria/Gender Incongruence as the relevant national and international guidelines on which Tavistock relied.
The D and T committee – please see their listing in the PES website of their reports on new drugs, drugs in the pipeline and timely alerts.
The Annual Program Committee is moving along with multiple faculty already invited for the 50th Annual Meeting in Chicago. Exciting topics are promised for symposia, MTP, Doc in the box, plenaries and international talks.
In closing I hope you take a moment to read another poem by Mary Oliver, from New and Selected Poems, Volume 2, 2005.
Song for Autumn
In the deep fall
don't you imagine the leaves think how
comfortable it will be to touch
the earth instead of the
nothingness of air and the endless
freshets of wind? And don't you think
the trees themselves, especially those with mossy,
warm caves, begin to think
of the birds that will come — six, a dozen — to sleep
inside their bodies? And don't you hear
the goldenrod whispering goodbye,
the everlasting being crowned with the first
tuffets of snow? The pond
vanishes, and the white field over which
the fox runs so quickly brings out
its blue shadows. And the wind pumps its
bellows. And at evening especially,
the piled firewood shifts a little,
longing to be on its way.
And as Linus said, "There are 3 things I've learned never to discuss with people-religion, politics and the Great Pumpkin."  More to come re: pumpkins in the October letter.
With thanks you to all,

Sharon
News from the PES Equity, Diversity and Inclusion task force:
National Hispanic Heritage Month is celebrated each year from September 15 through October 15, dates which encompass the independence days of Costa Rica, El Salvador, Guatemala, Honduras, Nicaragua, Mexico and Chile. Events throughout the month celebrate Hispanic culture and history. Click here to read more! https://pedsendo.org/education-events/equity-diversity-and-inclusion-initiative/
NIH sponsored webinar: NIH Perspectives on Extramural Research
October 26th at 6:00 pm eastern
Dr. Lauer will address a number of topics of interest to the extramural research community.  These include efforts to nurture and counsel the next generation of researchers; short-, intermediate-, and long-term effects of the COVID-19 pandemic; evolving trends in extramural NIH-funded science; and the critical importance of integrity and trust as bedrock principles underlying the research enterprise.
Speaker: Michael S Lauer, MD, NIH Deputy Director for Extramural Research
Register in advance for this meeting:
https://zoom.us/meeting/register/tJErc–upzMqGNNsilvGyXfFtoVPeL0Oq2qm
After registering, you will receive a confirmation email containing information about joining the meeting.
2022 Call for Awards and Lectures: Deadline: November 15, 2021
The Board of Directors and the Awards and Honors committee are pleased to announce the 2022 call for nominations for the following PES awards and lectures.
Judson J. Van Wyk Prize
The Del and Beverly Fisher Pediatric Endocrinology History Lectureship
Young Investigator Award
Clinician Award
Educator Award
Senior Researcher Award
Click here for nomination requirements and instructions for each award and lecture-  http://apps.pedsendo.org/member-awards/
Online education:
SAVE THE DATE! Industry Sponsored Symposia: Lonapegsomatropin: Addressing Unmet Needs in Pediatric Growth Hormone Deficiency (PGHD)
Sponsored by Ascendis Pharma
October 18, 2021, 11:00am PT/1:00pm CT
 Description – During this virtual webinar, you will learn about the lonapegsomatropin phase 3 data; both safety and efficacy vs. daily Genotropin, as well as the lonapegsomatropin profiles supporting treatment of PGHD. There will also be an opportunity for live Q&A with our presenters.
Speakers: Paul Hofman, MD, Professor, Clinical Director of the Maurice and Nessie Paykel CRU
The University of Auckland, Liggins Institute, and Brad Miller, MD, PhD, Professor, Department of Pediatrics, University of Minnesota, Medical School
Click here to Register https://us02web.zoom.us/webinar/register/WN_8qIFSFVqQN6GmaboTuergQ
PES State of the Art Education Series; Ethical Issues in Pediatric Fertility Preservation: Case Studies Involving Cancer, Intersex, and Transgender Patients
Sponsored by the PES Ethics SIG
October 6, 2021, 12:00pm – 1:00pm Eastern Time
Brief Description: Lisa Campo-Engelstein is the Director of the Institute for Bioethics & Health Humanities and the Harris L. Kempner Chair in the Humanities in Medicine Professor at the University of Texas Medical Branch. She specializes in reproductive ethics, especially fertility preservation and male contraception, and feminist and queer bioethics. The BBC recognized her research as engendering a better future for women, naming her as one of the 100 "inspiring and influential" Women of 2019.
She will discuss common ethical issues in fertility preservation and review cases involving patient with cancer, intersex traits and who identify as transgender and unique considerations for these groups. Register in advance for this meeting: https://zoom.us/meeting/register/tJUld-2pqjwsHdLC2rm0LRi6vbilZMkS3L8U
After registering, you will receive a confirmation email containing information about joining the meeting.
PedsENDO365: Calling all interested Fellows!
Plan to join us for the next webinar in the PedsENDO365 education program series: Cost effectiveness in Health Care in Pediatric Endocrinology
October 8, 2021 from 3:00 – 4:00pm eastern time.
Click here to learn more and register: https://pedsendo.org/pedsendo365/
IMPE 2023 – SAVE THE DATE:
New dates for IMPE 2023 will be March 4-7, 2023, in Buenos Aires, Argentina. Stay tuned for registration information once available.
World Health Organization's (WHO) draft recommendations to strengthen and monitor diabetes responses within national noncommunicable disease programs, including target goals.
The Pediatric Endocrine Society recently had the opportunity to provide feedback to the World Health Organization's (WHO) draft recommendations to strengthen and monitor diabetes responses within national noncommunicable disease programs, including target goals. PES strongly supported WHO targets explicitly stating that 100% of people with type 1 diabetes should have access to insulin and blood glucose self-monitoring.  In conjunction with the JDRF, PES recommended a clarification of the target that "80% of people with diabetes are diagnosed."  Because the rate of non-diagnosis, or "death at onset," for type 1 diabetes is a significant and under-recognized problem globally, we recommended a revision of the draft recommendations from "80% of people with diabetes are diagnosed" to "80% of people with diabetes (and 100% of people with type 1 diabetes) are diagnosed."
PES Connects
PES Connects is an easy-to-use site with the ability to network with fellow PES members and receive the latest news all in one place. The membership has been asking for a voice and a platform with powerful social networking, discussion, and information-sharing tools, and this tool delivers. This online community platform offers a more robust version of a traditional discussion board. This platform:
Allows members to ask questions to fellow peers across the profession year-round without geographic restrictions, giving members the ability to be a vital resource to others by responding to their questions to help strengthen the pediatric endocrine community.
Provides enhanced communication across the specialty.
Offers a place to neatly house articles, and meeting presentations and make searching for these resources easy and immediate.
Provides topic-based communities for members to participate in subjects that are important to you.
Allows for easy, quick searches for members in the database, making connections with new colleagues and old friends a snap.
Check out the PES Connects Tutorial and get started today!
https://pes-video.s3.amazonaws.com/PES+Connect.mp4
Fellow spotlight: Sruthi Menon, MD PGY-6, Clinical Fellow, Diabetes & Endocrinology, Texas Children's Hospital/ Baylor College of Medicine. Meet Sruthi: September Fellow Spotlight – Sruthi Menon, MD, PGY-6 | Pediatric Endocrine Society (pedsendo.org)
APP Spotlight: Stephanie Woerner, MSN, FNP-C, CDCES
Meet Stephanie: https://pedsendo.org/member-spotlight/app-spotlight/pes-app-spotlight-2/
A note to the Program Directors re: the Match
Several years ago, we entered the NRMP for fellowship recruitment.  This has the advantage of allowing fellow applicants to interview at multiple sites and have time to make a decision about where is the best fit for the applicants.  This was done FOR THE BENEFIT of fellow applicants and at their request.
Our ongoing participation in NRMP requires us to have 75% of our positions continue to be offered through the match.  It has come to our attention that applicants for fellowship are being offered positions outside of the match.  If this continues, we are in jeopardy of losing our ability to participate in the match, which would make us one of the only pediatric subspecialities that doesn't participate in the match.  Additionally, offering applicants positions outside the match puts undo pressure on them to accept the position, limits their exposure to programs across the country and the opportunity to fully consider their options.
Please take into considerations the impact of these actions on the entire pediatric endocrine fellowship community and reconsider these "handshake" offers moving forward.
Respectfully,
Jennifer Barker; Training Committee Chair and Tandy Aye, PES Board Director
Call for surveys! Deadline November 30, 2021
PES is soliciting surveys. Surveys are solicited three times per year.  Two surveys from each cycle are selected and sent out to the PES membership. The survey deadline is November 30, 2021. Please click here to submit your survey request:
Survey Request | Pediatric Endocrine Society (pedsendo.org)

GnRH analogs Survey from the D&T Committee
We would like your help! We would like to understand your prescribing behavior and any potential barriers (insurance and logistics) that you may encounter when wanting to use specific GnRH analogs (short acting versus long acting versus implants). We think that your responses will help us understand the specific issues that may prevent you from prescribing your preferred GnRH analogs. Your survey responses will form the basis for a comprehensive review of trends for prescribing GnRH analogs among pediatric endocrinologists. We really appreciate you responding to our survey administered by the Drug and Therapeutics Committee of the PES.  https://redcap.link/CurrentUseofGnRHanalogsinCPP
Ethics Modules re-instated
Earn MOC credits for completing these relevant modules! Click here to learn more: https://pedsendo.org/careers/certification/ethics-in-pediatric-endocrinology-moc-2/
History Tidbit: Frederick M. Allen, MD (16 March 1879 to 11 January 1964) Dietary Treatment for Diabetes Mellitus before Insulin.
Submitted by Alan D. Rogol, MD, Ph.D
https://pedsendo.org/historical-tidbits/historical-tidbit-frederick-m-allen-md-16-march-1879-to-11-january-1964-dietary-treatment-for-diabetes-mellitus-before-insulin/
PES 50th Anniversary Timeline project – Historical Fact Sneak Peek: https://pedsendo.org/education-events/pes-50th-anniversary/