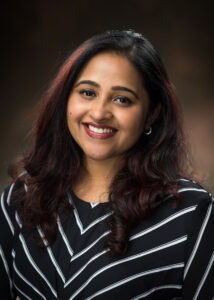 Sruthi Menon, MD, PGY-6
Clinical Fellow, Diabetes & Endocrinology, Texas Children's Hospital/ Baylor College of Medicine
I am a 3rd year fellow in pediatric endocrinology at Baylor College of Medicine/Texas Children's Hospital. I grew up in India and completed medical school at Madras Medical College, Chennai before moving to the United States for the rest of my medical training.
My first glimpse into the world of endocrinology was as a high school student learning about carbohydrate metabolism in biology class. While some others complained about the complicated names and squiggly lines and arrows in front of them, I was truly in awe of the human body's well designed pathway of breaking down and utilizing energy, and how it was so well regulated by insulin and the counter-regulatory hormones. My understanding of and fascination with the field grew in medical school as I learnt more about the body's delicate manner of maintaining homeostasis, and the crucial role played by hormones in orchestrating many of the day to day body functions that we may take for granted. The idea of pursuing a career in pediatric endocrinology was first planted in me during my second year of pediatric residency at MetroHealth Medical Center, Cleveland while managing a teenager with type 1 diabetes admitted with severe diabetic ketoacidosis. As I was explaining the pathophysiology of the disease and its management to the medical student on call with me, I realized how the carbohydrate metabolism I learnt in high school continued to fascinate me, now with a better understanding of its direct application in patient care. I later had the opportunity to spend 2 weeks volunteering as camp physician at Camp Ho Mita Koda, summer camp for youth with diabetes, where I was able to closely interact with children as well as older staff with diabetes and gain a better understanding of what daily life with the disease is like. I was impressed by how the care of diabetes has progressed over the years starting with the discovery of insulin 100 years back and more recently with spectacular advances in diabetes technology and pharmacotherapy. I saw great promise for future innovation in the field and hoped to be a part of it.
As a fellow at Texas Children's Hospital, I have been fortunate to learn from the vast depth and breadth of pathology encountered here that is helping build a strong foundation of knowledge and skills in pediatric endocrinology. I am fascinated by the diagnostic challenges we encounter every day and the opportunity to be a "medical detective". I have also been deeply impressed by how endocrine disorders in the pediatric population including diabetes, obesity, diseases affecting growth, puberty and gender identity have a long lasting impact on not just a child's physical, intellectual and future reproductive health but also have profound psychosocial implications. This prompted me to pursue research to better understand the complex relationship between fear of hypoglycemia and hypoglycemia confidence with glycemic metrics based on data derived from continuous glucose monitors in adolescents and young adults with type 1 diabetes. I am being guided and supported by two incredible research mentors/ cheerleaders who each offer unique perspectives on my project – Dr. Daniel DeSalvo, an expert in diabetes technology and Dr. Marisa Hilliard, a pediatric psychologist and behavioral researcher. I am also starting to explore the world of qualitative research with Dr.Hilliard's guidance and hope to gain a better understanding of fear of hypoglycemia by incorporating qualitative analysis into my research project.
On completion of fellowship, I look forward to practicing as a clinician educator.  I strongly believe that "teaching is the highest form of understanding" and hope to continue to actively engage with trainees in the future and share my passion and knowledge in medicine and endocrinology.