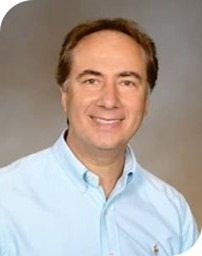 I believe I speak for the over 900 who attended the PES meeting in San Diego—it was amazing. For some, it was about the scientific presentations. For others, perhaps it was the opportunity to present their first poster, or the chance to meet others in similar roles across the globe. For everyone, it was the first opportunity in what seems like ages to see each other, to ask about the career, or about the 8-year-old child who is now shockingly in junior high school. For me, this meeting represented much more. It showcased all the volunteers in PES on various committees and SIGs, the Program Committee, the Board, Degnon, friendships, and my year serving as your President. I was honored to present the update of PES (Business Meeting), the Game Show, and the Presidential Address. Thank you all for attending, celebrating, learning, and sharing your wisdom, knowledge, and friendships.
This is my last Newsletter as I pass the opportunity to Dr. Thomas Carpenter, our President. Tom is an amazing person, an endocrinologist whose wisdom goes well beyond his expertise in the bone field. I look forward to continued board service as immediate past president under his leadership!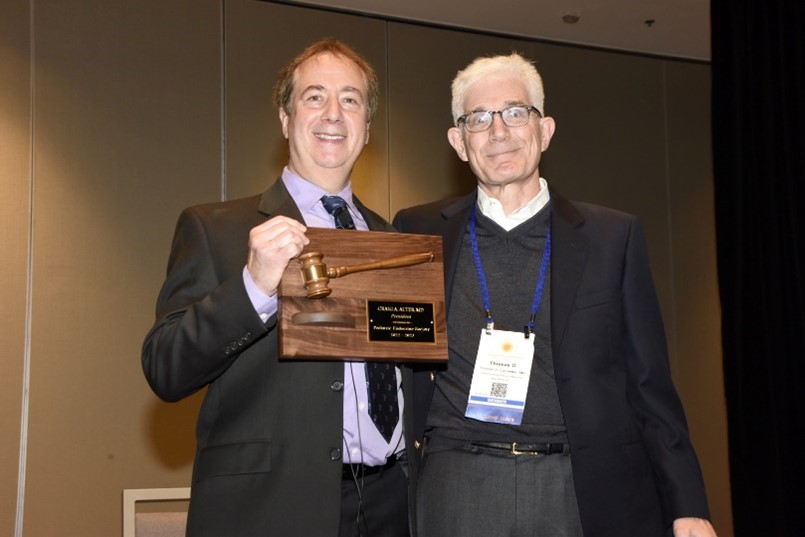 Cases:
In terms of the cases, I have thoroughly enjoyed sharing throughout this past year some of my memorable patient and family stories over the years. Some of the cases served as a method of learning, and some (if you were at my talk, for those amiables) to sit back and enjoy.
With the theme of sharing, I present to you – memorable moments of sharing during my career, in patient age order. Let's begin with the pharmacist who unfortunately shared his/her knowledge of creating a levothyroxine elixir from the levothyroxine tablets for a newborn with congenital hypothyroidism (not all sharing is good). Then, to a generous 5-year-old with congenital hypothyroidism who graciously shared his thyroid medicine with his 3-year-old sister. Or the extra-muscular dad who shared his gym towels with his soon to be hairy 6-year-old son. Then the engineer parent who shared his method of making his 8-year-old son with Addison's disease's hydrocortisone last longer (can you say "iatrogenic Cushings"). Or the parents who brought in their 10-year-old child with recent weight gain who shared their crumpled post-it note with a scribbled one word on it, "Cushings," which they obtained from Google; they were correct, and resection of a pituitary adenoma led to a complete cure. Or thanks to the generosity from a young teen with new-onset diabetes mellitus who kindly shared his insulin with three friends which led to this phone call, "Hey doc, what happens if my child's friends each took a shot of insulin?" My question to the parent, "Was the insulin the cloudy one or the clear one?" (Answer, "cloudy"). A shaky friendship only to be highlighted by three shaky friends.
Most Sincerely,

Craig A. Alter, MD
---
NOW ACCEPTING NOMINATIONS FOR 2024 AWARDS & LECTURES
Deadline: December 14, 2023 @ 5:00 PM ET
Judson J. Van Wyk Prize
The Del and Beverly Fisher Pediatric Endocrinology History Lectureship
Young Investigator Award
Clinician Award
Educator Award
Senior Researcher Award
*Please note all nominations must be submitted through the online portal (link below)
Click Here for Nomination Requirements & Instructions
Lilly announced transition of BAQSIMI® (glucagon) nasal powder 3 mg to Amphastar (AMPH). Amphastar will continue working on BAQSIMI for people on insulin
Lilly to Divest BAQSIMI to Amphastar | Eli Lilly and Company
Online Education: Beyond the Basics of Type 1 Diabetes is an interactive CME-certified case-based educational activity
The Pediatric Endocrine Society and Medscape Education are pleased to announce the posting of our collaboration to improve the diagnosis and management of type 1 diabetes in children
https://www.medscape.org/viewarticle/990914?ecd=par_pes_distr_mscpedu
10th I-DSD Webinar 2023
Time and Date: Thu, 6 Jul 2023 10:30 – Fri, 7 Jul 2023 17:00 BST
Location: Online
Programme: Webinar Programme
Register: https://10thi-dsdwebinar.eventbrite.co.uk/
EACCME® accreditation has been applied for.
Calling all Fellows! Quality Improvement for Endocrinology Fellow
s
June 2, 2023 / 3:00-5:00 PM ET
Webinar Objectives:
Apply Plan-Do-Study Act Quality Improvement (QI) methodology using a real-world example.
Understand utility of QI tools including: process map, pareto chart, fishbone diagram, control/run chart
Describe how to find access to additional training / toolkits and review how QI projects can fulfill MOC Part 4 credits with the American Board of Pediatrics
Congratulations to the winners of the 2023 Karger Prize Papers
THE 2023 HORMONE RESEARCH INPAEDIATRICS AND PEDIATRICENDOCRINE SOCIETY PRIZE FORTHE BEST ORIGINAL PAPER 2023
Christine A. March, Shruti Sastry, Michael J. McPhaul, Sarah E. Wheeler, Luigi Garibaldi
for the paper
Combined Arginine and Insulin Stimulation Elicits a Robust and Consistent Copeptin Response in Short Children
Horm Res Paediatr 10.1159/000528661
THE 2023 HORMONE RESEARCH IN PAEDIATRICS AND PEDIATRIC ENDOCRINE SOCIETY PRIZE FOR THE BEST NOVEL INSIGHTS FROM CLINICAL PRACTICE / CASE REPORT PAPER 2023
Kara E. Boodhansingh, Elizabeth Rosenfeld, Katherine Lord, N. Scott Adzick, Tricia Bhatti, Arupa Ganguly, Diva D. De Leon, Charles A. Stanley
for the paper
Mosaic GLUD1 Mutations Associated with Hyperinsulinism Hyperammonemia Syndrome
Horm Res Paediatr 2022;95(5):492–498
EDI Spotlight: June is Pride Month
Read more here: Equity, Diversity and Inclusion Initiative – Pediatric Endocrine Society (pedsendo.org)
Fellow Spotlight: Nikhita Chimatapu, MD
Meet Nikhita: May Fellow Spotlight – Nikhita Chimatapu – Pediatric Endocrine Society (pedsendo.org)
Historical Tidbit: Dr. Saul Hertz (4/20/1905-7/28/1950) and readioactive iodine therapy
Submitted by: Evan Graber, DO
Historical Tidbit: Dr. Saul Hertz (4/20/1905-7/28/1950) and radioactive iodine therapy – Pediatric Endocrine Society (pedsendo.org)
From the NIH: Safeguarding Integrity and Collaborations: Not "Either-Or" but "Both-And"
By Mike Lauer
Today Science published our letter "Safeguarding integrity and collaborations," which summarizes our perspectives on NIH efforts to address long-standing foreign interference threats, many stemming from foreign malign talent recruitment programs. We are grateful to Science for publishing our letter and for endorsing our efforts to "talk more openly."
Read More: Safeguarding Integrity and Collaborations: Not "Either-Or" but "Both-And" – NIH Extramural Nexus
Congratulations to the winner of our 2023 Annual Meeting Scavenger Hunt!
Congratulations Maria Parra Villasmil, from the University of Iowa Hospital and Clinics for being our winner. She will receive a complimentary registration for the PES 2024 Annual Meeting May 2-5, 2024 in Chicago, IL! Thanks to all who participated in our game. Maria, we will see you next year!