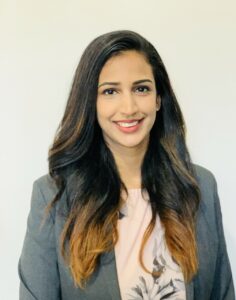 Nikhita Chimatapu, MD
I am a second-year fellow in pediatric endocrinology at the University of California, Mattel Children's Hospital, Los Angeles. I obtained my medical degree from Mahatma Gandhi Mission's Medical College in India and completed my pediatric residency at Icahn School of Medicine at Mount Sinai, Elmhurst Hospital in New York.
My passion for endocrinology developed during my early years in medical school. I was intrigued by the complex regulation of hormonal pathways and the diverse clinical presentations of endocrine disorders across organ systems. This initial fascination sparked my curiosity and motivated me to delve deeper into the field. During my pediatric residency, I developed a deeper passion for endocrinology while pursuing an elective under the guidance of Dr Robert Rapaport. This experience highlighted the significance of clinical research in improving patient care, inspiring me to pursue further research opportunities. I participated in diverse research initiatives such as interventions to improve mental health outcomes in adolescents with polycystic ovary syndrome (PCOS) and understanding the accuracy of blood gas analyzers for management of diabetic ketoacidosis. Through these projects, I gained an appreciation for the crucial role of hormonal and metabolic balance in overall health, a theme reinforced by the COVID-19 pandemic's disproportionate impact on individuals with metabolic disorders.
As a pediatric endocrinology fellow, I have the unique opportunity to balance patient care and clinical research. My wonderful mentors, Dr. Alaina P. Vidmar from Children's Los Angeles and Dr. Steven D. Mittelman, my division chief, have been instrumental in helping me identify my research niche and have served as my role models. Further, I'm fortunate to be surrounded by a community of distinguished endocrine faculty members that support and enhance my academic growth. Currently, I am studying to evaluate the feasibility, acceptability, and preliminary efficacy of continuous glucose monitoring (CGM) in adolescents with obesity. I also received the William F. Friedman Fellowship award from the Children' Discovery Institute at UCLA for this project. In addition, I'm passionate about integrating technology into childhood obesity management. In order to develop further knowledge and skills in this area, am pursuing a fellowship in Biodesign at UCLA alongside my endocrine training. Through this, I aspire to design and develop innovative technologies that can support sustainable weight management and drive transformative change in the field of pediatric obesity management.