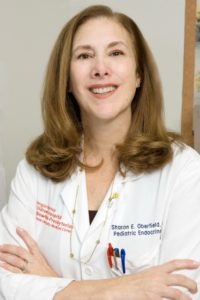 By the time you read my first Presidential letter it will be almost a month since our first PES standalone meeting, April 28- May 3, 2021.
I would like to thank, in particular, Madhu Misra, MD our immediate past President, Erica Eugster, Md- past President, Selma Witchel MD and Ambika Ashraf- MBBS, DCH, MD co-chairs of the program committee, the members of the Board of Directors, Maureen Thompson and the Degnon associates as well as the countless unsung heroes of our committees and SIGs for "getting this together." Of course, a special kudo to our new President- Elect Craig Alter, MD who served as the Emcee for our inaugural PES's got talent show!
By all accounts this was an unprecedented outstanding meeting, albeit all virtual. Highlights of the meeting included 2 international plenaries, the new Equity-Diversity-Inclusion plenary session and the LWPES talk given by the Whittington family regarding raising Ryland, their transgender son. We had virtual showcases and exhibits. We had over 1200 registrants with our "rooms" accommodating 500 persons at a time. And if you missed anything the programs will stay on-line for 6 months.
Indeed, amazing things are happening in our country in these past few weeks since the meeting. The infection rates of Covid-19 are declining, vaccination rates are rising and life after 15 months of the Pandemic is starting to return to its prior rhythm. Children are attending school in person, we are beginning to take holidays and travel, grandparents can see their children and grandchildren and the economy is improving. Hopefully, dignity and respect will again be afforded to all irrespective of their race, ethnicity, religion, gender identity and sexual orientation.  We are hopeful that our 2022 PES 50-year celebratory meeting will be in-person. The venue is not yet determined but we are looking at Spring 2022.
As I reflect on my 40 years as a member of PES, I can't help but be in awe of the incredible breakthroughs in pediatric endocrinology. Diseases are no longer described just by clinical signs. The molecular underpinnings of so many disorders- CAH, disordered puberty, neonatal hypoglycemia, Diabetes and disorders of sexual development to name a few- have been elucidated. Coupled with these discoveries we are now able to provide patient- specific treatments and genetic modeling is in the works for some. The PES is committed moving forward toward delivery of equitable care to all of our children.  With the initiation of the EDI, committee specific programs already are in development and we trust you will engage.
How can we together effect changes in the coming year?  I have delivered these few goals to the Board of Directors for the 2021-2022 year. (Without having to say we are all working to ensure we have an outstanding PES 50, 2022 meeting)
With your help I want to
Initiate and expand programs to attract more medical students, residents and endocrine fellows/members, APPs at critical times in their career.
Work with our Mission Alliance Partners to help with drug distribution to all who need.
Create a new committee to increase our relationship with the NIH- both the NICHD and NIDDK to help educate our members on ongoing opportunities for research related to pediatric endocrinology-including joining ongoing learning modules sponsored by the NIH for our members.
Expand our Equity, Diversity, and Inclusion initiatives and
Build on local, national, and international recovery from Covid-19 with improved healthcare initiatives for pediatric endocrine and diabetes patients.
We are past the initial survival phase—it is time for additional, initiatives and direction- and I encourage all to contact me or other members of the board with your thoughts.
Along these lines, I would like to draw attention to a recent-4/24/21 New York Times article entitled" There's a Name for the Blah You're Feeling.  It's called Languishing". By Adam Grant. Languishing is the void between depression and flourishing- first termed by the sociologist Corey Keyes.  We at PES are no longer languishing. -perhaps we never were. All of us should in any event focus on a small goal, solving a personal challenge, having a great meal or conversation.  We must "rediscover some of the energy and enthusiasm we missed last year."
I leave you with a quote from Rabindranath Tagore, a Bengali poet and winner of the 1913 Nobel prize:
"I have become my own version of an optimist.  If I can't make it through one door I'll go through another door- or I'll make a door."
Looking forward to working with all of you.
Sincerely,

Sharon Oberfield, MD
PES Connects:
We would like to highlight a new PES member benefit called PES Connects. PES Connects provides a digital platform to implement the mission and goals of our society. It streamlines our communication channels, allows for dynamic real-time exchanges, and serves as an archive for our mission-relevant activities. PES Connects will help us build and sustain our investment in PES as our professional home, and our commitment to an equitable, diverse, inclusive, and action-driven community. PES members will receive an email from the platform within the next week introducing and explaining how to best utilize this new benefit. Click here to access the platform https://community.pedsendo.org/home
From the PES EDI task force:
May is Asian and Pacific Islander Heritage Month. We would like to recognize a notable Asian American Endocrinologist who focused on inclusion:  Wilfred Y. Fujimoto, MD, Professor Emeritus, University of Washington. Learn more about Dr. Fujimoto here https://pedsendo.org/education-events/equity-diversity-and-inclusion-initiative/
PES EDI Book Club
PES EDI hosted a very successful first Book Club! We have selected the next book, Just Mercy: A Story of Justice and Redemption by Bryan Stevenson. This story was also adapted into a movie by the same name starring Michael B. Jordan and Jamie Foxx.   Save the Date: June 22, 2021 8:30pm
Register in advance for this meeting:
https://us02web.zoom.us/meeting/register/tZUocuGupjoiG9dlaOaWQmqY4Us-1Nb6GaQC
After registering, you will receive a confirmation email containing information about joining the meeting.
Call for Committee interest!
The practice management committee, the nominating committee, and the membership committee are looking to increase the number of committee members. Please visit the committee page of the website to learn more about the charges and projects of each committee and complete the form if you would like to get involved! Management will connect you directly with the committee leadership. https://pedsendo.org/join-a-committee/
From the Practice Management Committee
The practice management committee hosted a Meet the professor session on PES PMC Billing, Coding and Revenue and if you are a paid registrant of the virtual meeting, the slides from the session are available online in the meeting platform. If you were inspired by that discussion or have a yet to be scratched passion for the business and practice of pediatric endocrinology, our committee is looking for new members!  Our committee aims to bring together a representative group of pediatric endocrinologists from across the country to support our larger membership through the creation of content aimed to promote outcomes-driven, financially sustainable, efficient and rewarding clinical practice.
Call to fellows: We are especially interested in attracting fellows (or others just out of training) who would like to help lead this conversation at a national level in the coming months and years to come be part of our group.  Please visit the website and complete the committee interest form. (see link above).
Finally, if you didn't already get a chance to complete our survey (co-developed in partnership with the Diabetes SIG) on reimbursement for diabetes care, the survey will only be open for a little while longer.   Please click here to share your perspectives on the time you spend providing non-billable and/or non-reimbursable diabetes care. The survey asks about demands on your time for approvals of medication and/or technology, reviewing glycemic data/adjusting insulin via phone/e-mail and other activities.
PES Online education offerings:
Visit our online education page for newly added webinar/education content.
SIG State of the Art Series: https://pedsendo.org/pes-sig-state-of-the-art-series/
Education Committee Webinars: https://pedsendo.org/education-events/online-education/past-pes-education-committee-webinars/
Student Endocrinology Exposure Development (SEED) program – NEW Session
SEED is a novel interactive session series being hosted by the Pediatric Endocrine Society that aims to enhance clinical learning for medical students and increase their exposure to pediatric endocrinology. https://pedsendo.org/seed/
Other virtual education:
Turner Syndrome Conference: Care of Patient Across the Lifespan
Virtual Conference, Friday, June 4, 2021
This one-day virtual conference is designed to further enhance the assessment, diagnosis and treatment of the medical, psychological and behavioral comorbidities associated with diagnosis of Turner syndrome throughout the lifespan including prenatal, newborn, infancy, childhood and adulthood.
Registration
The registration fee includes course registration, live stream access to the conference and access to view presentations online. Click here for registration information: https://chop.cloud-cme.com/course/courseoverview?P=5&EID=2583
Fellow Spotlight
Anna Chin, MD, MPH, Brown University/Hasbro Children's Hospital
https://pedsendo.org/member-spotlight/fellow-spotlight/fellow-spotlight-anna-chin-md-mph/
PATH
PATH is the Partnership for Accurate Testing of Hormones. PES is a founding member of this consortium of 21 professional societies, government agencies, and industry partners. PATH's mission is to promote the use of standardized hormone assays to improve patient care, endocrine research, and healthcare economics. Visit the PATH website at http://www.hormoneassays.org/ to view PATH resources, including educational activities and a whiteboard animation.
History Tidbit
Andrea Prader, MD (December 23, 1919-June 3, 2001), submitted by Alan D. Rogol, MD, Ph.D
https://pedsendo.org/historical-tidbits/historical-tidbit-andrea-prader-md-december-23-1919-june-3-2001/