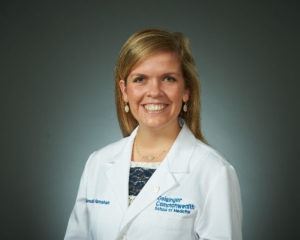 Name: Meredith Hanrahan
Year: 3rd Year Medical Student (Class of 2022)
Program: M.D. Program
School: Geisinger Commonwealth School of Medicine
What is your most memorable experience in medical school so far?
I would have to say the most memorable experience for me in medical school so far has been organizing the Geisinger Commonwealth School of Medicine's annual Turkey Trot 5K/10K race. The Turkey Trot is held every November to raise money to provide Thanksgiving dinners for thousands of people in the local community. It was a great experience to see my school and city come together that day to support such a great cause.
What experience led to your interest in pediatric endocrinology?
My interest in endocrinology began during my post-baccalaureate studies at the University of Pennsylvania and persisted through my first two years of medical school. This continued interest in endocrinology led me to apply to a National Institutes of Health summer research program this past year at the University of Pennsylvania, which focused on diabetes and obesity.
As a participant in this program, I was able to conduct research on Hyperinsulinism/Hyperammonemia Syndrome in the Division of Endocrinology at the Children's Hospital of Philadelphia (CHOP). During my research program I became more interested in pediatric endocrinology because I also had the opportunity to shadow attending physicians in both an inpatient and outpatient setting, treating children with rare endocrine disorders.
What do you see yourself doing in five years?
In five years, I hope to be in a pediatric residency program at an academic medical center. I hope to be preparing for a fellowship in pediatric endocrinology with both clinical and research training experience.
What aspect of the Q&A session of the PedsENDO discovery program did you find most helpful? What are you hoping to learn from your PedsENDO discovery program experience (including attending PES 2021)?
During the Q&A session, I found it helpful to learn about the different career paths that the physicians had chosen within the field and I especially enjoyed the discussion regarding the most rewarding experiences of being a pediatric endocrinologist. The PES conference is appealing to me because it will provide an opportunity to engage with renowned physician-scientists in the field of pediatric endocrinology, I believe this is an excellent opportunity to gain exposure to the latest research and understand best practices in the care and treatment of children with endocrine-related disorders.