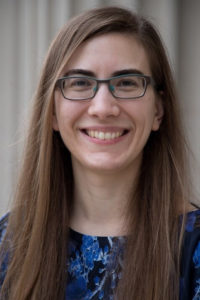 Name: Amanda Barks
Year: G5/MS3 (Defending thesis and returning to clinic summer 2020)
Program: MD/PhD
School: University of Minnesota Medical School
What is your most memorable experience in medical school so far?
My most memorable experience in medical school so far is when I saw a patient for follow-up in the outpatient clinic for the first time. It was exciting to get to participate in longitudinal patient care as a medical student, and I really enjoyed the experience.
What experience led to your interest in pediatric endocrinology?
I had the opportunity to spend a semester in Multidisciplinary Pediatric Congenital Adrenal Hyperplasia (CAH) and Disorders of Sex Development (DSD) clinic under the mentorship of Dr. Kyriakie Sarafoglou. This experience piqued my interest in pediatric endocrinology because I enjoyed learning the mechanisms of each disease, how manifestations can vary among affected individuals depending on their genetic make-up, and the role of pharmacometrics in therapy response. I also really enjoyed the experience of working together with children and their families.
What do you see yourself doing in five years?
In 5 years, I hope to be nearing completion of a pediatrics residency program and preparing for fellowship.
What aspect of the Q&A session of the PedsENDO discovery program did you find most helpful? What are you hoping to learn from your PedsENDO discovery program experience (including attending PES 2021)?
At the Q&A session, I enjoyed hearing from pediatric endocrinologists at various stages in their careers about what they found fulfilling and challenging about their job. I am hoping to learn more about active areas of research in the field of pediatric endocrinology by participating in the PedsENDO discovery program at PES 2021.