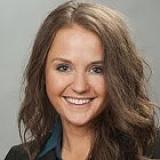 Michelle Meder, MD
I have recently started my third year of pediatric endocrinology fellowship at the University of Utah. I was raised in the St. Louis, Missouri area. I attended the University of Illinois for my undergraduate studies followed by completion of my medical degree at Chicago Medical School. As the mountains were calling, I then ventured out west for pediatric residency to the University of Utah where I have had the opportunity to stay for fellowship.
My initial exposure to the field occurred in the first few months of residency while evaluating a neonate with ambiguous genitalia in the NICU. My interest was immediately piqued as I find the pathophysiology of the endocrine system fascinating. Through continued exposure via management of hospitalized diabetic patients and a longitudinal experience in outpatient endocrine clinic, I came to find I enjoyed the variety of inpatient and outpatient medicine. Also, I appreciated the ability to form long-term relationships with both patients and their families.
My main interests within pediatric endocrinology include transgender medicine, thyroid cancer, and type 1 diabetes. My long-term career goals involve working at an academic center dedicated to continuous improvement of patient care through research, collaboration, and training of young physicians to do the same. Throughout fellowship, I have developed various projects that align with these interests and goals. One involves identifying attitudes towards as well as conflict and regret surrounding fertility preservation decisions made by young adult transgender individuals under the care of the University of Utah Transgender Health Program and Primary Children's Gender Management & Support Clinic. I plan to use this information to improve our process regarding fertility preservation discussions in this population. The second is focused on raising awareness of the unique, non-inferior, and cost-effective diabetic ketoacidosis management at the University of Utah. Additionally, I have assumed the role of representative for the pediatric endocrinology division in the establishment of the multidisciplinary thyroid nodule and cancer clinic with pediatric otolaryngology and genetics at Primary Children's Hospital.
I have been fortunate to have many mentors throughout my medical training. During residency, guidance from Drs. Bruce Herman and Joni Hemond, my residency program director and co-director, was invaluable. As I have progressed through subspeciality training, I have felt nothing but support and encouragement from the entire pediatric endocrinology faculty at the University of Utah. I especially owe thanks to my program director, Dr. Vandana Raman, and two research mentors, Drs. Zoe Raleigh and Allison Smego.