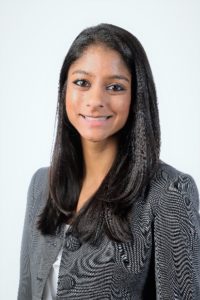 I am an endocrinology fellow at Massachusetts General Hospital. I am pursuing a combined adult and pediatric fellowship and last year completed my adult clinical year. Now, I am in my second year of fellowship completing my pediatric clinical year and I also see patients in the adult endocrinology clinic one half day a week. I went to medical school at the University at Buffalo and completed my Medicine-Pediatrics residency at Brown University at Rhode Island Hospital/Hasbro Children's Hospital in Providence, RI. I knew going into residency that I wanted to subspecialize in endocrinology and provide care to both pediatric and adult patients. I reached out to endocrinology programs across the country before deciding to pursue my combined fellowship at Massachusetts General Hospital
I fell in love with endocrinology because I enjoy the physiology of feedback loops and the pathophysiology leading to endocrine disorders. Endocrinology is also a field rich in research and development, and therapy options for our patients with endocrine disorders are expanding and improving. My mentor during residency, Dr. Lisa Swartz Topor, introduced me to the field of pediatric endocrinology. I worked on several projects with her during residency that exposed me the wide spectrum of pediatric endocrine disorders and the different opportunities for research in the field. During my time working on research projects with her or  seeing patients with her in clinic, I was inspired by her ability to be a fantastic clinician, researcher, and teacher. I now aspire to be that same "triple threat" in my career!
As a medicine-pediatric resident, I witnessed many situations in which both patients and providers (on both sides) struggled with transitions of care from the pediatric to the adult health care setting.  I also witnessed many young adults with childhood onset diseases who had a difficult time navigating the adult-oriented health care system, ultimately resulting in lapses of care or poor relationships with adult providers. These experiences showed me that there is a gap in the care for patients with childhood onset diseases and inspired me to shape my career to bridge this gap.  My interests are focused on improving health care delivery and providers' resources and understanding of how to best care for young adults with chronic endocrine diseases as they transition into the adult health care system for the first time. I am also passionate about teaching trainees at all levels and hope to pursue a career as a clinician educator at an academic center.