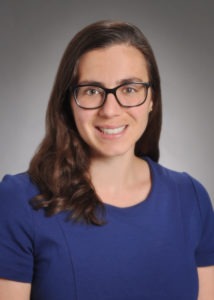 I completed medical school at Northwestern University, then pursued residency and pediatric endocrine fellowship training at the Medical College of Wisconsin (MCW).  I completed fellowship in June 2020. I am currently an assistant professor at the Medical College of Wisconsin.  I primarily divide my time between clinical duties and various clinical research projects.  I am also involved in quality improvement initiatives and resident education and recruitment. 
Inspiration for a path in pediatric endocrinology began in college when I took a course in animal endocrinology and loved learning about hormones and their feedback loops.  As I progressed through graduate medical training, I enjoyed the continuity of care and long-term relationships forged with patients and their families in the endocrinology clinic.
My clinical interests include type 1 diabetes, type 2 diabetes, and transgender care.  My primary research interests involve studying the role of the innate immune system on type 1 diabetes pathogenesis and identifying interventions to decrease risk of disease progression. My involvement in diabetes camp throughout fellowship has motivated me to provide compassionate care for children and their families with diabetes and study this complex, chronic medical condition.
I am lucky to have so many fantastic mentors surrounding me at MCW, who have carved out their careers to align with their interests, while maintaining a healthy work-life balance.  As a fellow, my primary mentor was Dr. Susie Cabrera.  She walked me through a translational research project that included both a murine model and human subjects, despite not having any prior bench research experience!  I presented my work as a platform at the Pediatric Endocrinology Society Meeting and am in the process of wrapping up data analysis and drafting the manuscript.