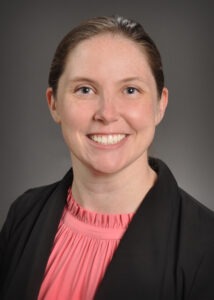 Annie Gladding
I am a first-year pediatric endocrinology fellow at Medical College of Wisconsin/Children's Hospital of Wisconsin. I received my business degree from the University of Maryland College Park but quickly realized that my passion was elsewhere – in medicine. I then landed in the Midwest for medical school at the Chicago College of Osteopathic Medicine / Midwestern University and have been out here ever since! My pediatric residency was also at the Medical College of Wisconsin/Children's Hospital of Wisconsin. My research project will be looking at consumption of non-nutritive sweeteners in patients with type 1 and type 2 diabetes compared to patients without diabetes. Some of my clinical interests right now include metabolic bone and differences of sexual development – but really everything.
I have always loved Endocrine pathophysiology from my very first physiology courses in medical school. Then after rotating in pediatric endocrine clinically as both a medical student and resident, I got to appreciate the long-lasting relationships with patients that this specialty gives us, and I knew it was the perfect match. I think that growing up with family members who have type 1 diabetes as well as having the chance to attend diabetes camp in medical school are just some of the experiences that have helped shape my current career path.
There have been so many inspiring mentors along the way, but a few include Dr. Sanjay Bansal, MD from Loyola University with whom I had the opportunity to work with during my first clinical pediatric endocrine rotation experience.  Dr. Bethany Auble, MD from Medical College of Wisconsin has also been an amazing inspiration to me throughout my pediatric residency journey and now into fellowship at MCW.