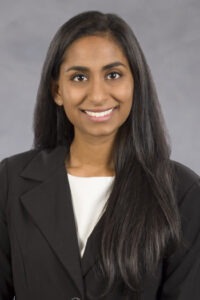 Naiomi Gunaratne-Breaux, MD
I am currently a rising 3rd year fellow in pediatric endocrinology at University of Chicago Medicine Comer Children's Hospital in Chicago, IL. I received my undergraduate degree at the University of Miami and completed my MD at the University of Miami Miller School of Medicine. I was fortunate to return home to Chicago to complete my residency in pediatrics at the University of Chicago and continue my subspecialty training at the same institution.
As a fellow, I have been grateful to divide my time within clinical, research, and educational interests. My clinical time is divided between inpatient and outpatient – my main interests are diabetes, obesity, and gender care. My research is focused on studying adrenal insufficiency in critically ill neonates; specifically understanding the timeline of adrenal insufficiency and understanding which infants are likely to outgrow it. I also am dedicated to medical education – I am involved in resident and subspecialty fellow education and GME leadership. I recently completed a Medical Education, Research, Innovation, Teaching, and Scholarship Fellowship through the Pritzker School of Medicine, focusing on creating a comprehensive pediatric endocrinology curriculum for pediatric residents.
My initial interest in endocrinology stemmed from witnessing my family members who were struggling with diabetes. In college, I had taken an endocrinology course that absolutely blew me away. I was fascinated by the feedback loops and applying my family's experience with diabetes to what I had learned. In medical school, I had rotated in pediatric endocrinology and loved the close relationships that were built between the providers and the families and was continuously fascinated by each patient.  My enthusiasm for the field grows with each year – and I hope to encourage others to join.
I have had incredible mentors who have motivated me during my residency and subspecialty training. I have been grateful to Dr. Michelle Lemelman as a research mentor and as a role model for providing gender care. I am thankful to have Dr. Rochelle Naylor as a mentor in pediatric endocrinology, education, and life in medicine. I have also learned so much about clinical medicine from my clinical mentors Dr. Siri Greeley and Dr. Katie O'Sullivan. I have been incredibly blessed with the opportunities provided by my program director, Dr. Dianne Deplewski, and my section chief, Dr. Ronald Cohen. Each day I am also inspired by my co-fellows, clinical diabetes educators, nurses, pharmacists, and social workers who have taught me so much about how to be a better provider to my patients.