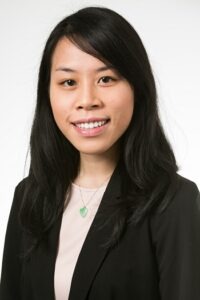 Vickie Wu, MD
I am a second year Pediatric Endocrinology Fellow at Kravis Children's Hospital at Mount Sinai in New York City. I attended Harvard College in Cambridge, MA and Albany Medical College in Albany, NY. I completed my pediatric residency training at the Icahn School of Medicine at Mount Sinai. I loved my residency training experience and am thankful for the opportunity to stay for subspecialty training.
My time is devoted to patient care and research. I am involved in basic science research in the Diabetes, Obesity & Metabolism Institute at Mount Sinai under the mentorship of Dr. Andrew Stewart. I am studying the subcellular localization of cell cycle activators and inhibitors in human pancreatic β cells in response to treatment with DYRK1A-inhibitor and GLP-1, both of which in vitro have resulted in human β cell proliferation. I have been fortunate to participate in a variety of clinical research projects, including assessing central precocious puberty care for racial/socioeconomic disparities and studying false positive rates of hypothyroidism in state newborn screening. Most recently, I was awarded a Pfizer Global Medical Grant for a quality improvement initiative to eliminate gender and racial disparities in the evaluation and diagnosis of children with growth hormone deficiency.
My interest in Endocrinology began with an undergraduate course on Behavioral Endocrinology. The intricate physiology of the feedback loops fascinated me. Moreover, the realization that current health issues (such as stress and obesity) stem from maladaptation of once evolutionarily useful mechanisms for survival sparked my journey. In medical school this was solidified through Endocrinology electives as I observed hormonal suppression or repletion impacting patients' quality of life. My research during residency on screening and management of pediatric overweight and obesity by resident physicians strengthened my interests to pursue Pediatric Endocrinology as a career.
I have had several excellent mentors throughout my subspecialty training. Dr. Stewart and Dr. Lauryn Choleva serve as my research mentors who continuously encourage me to think critically and to evaluate the larger significance of basic science research in the field of clinical medicine. Dr. Mabel Yau and Dr. Robert Rapaport have been integral as clinical research mentors and as role models for my clinical education, demonstrating how to lead inspiring research and clinical careers. Lastly, I am thankful for our division chief Dr. Joan Han and our fellowship director Dr. Christopher Romero who have supported my clinical and research endeavors.