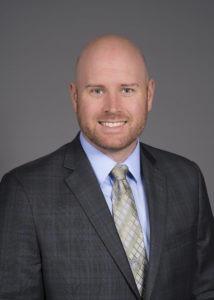 My name is Ryan Dyess and I am a Pediatric Endocrinology Fellow, PGY-5 at the University of Louisville School of Medicine. Professionally, I spend time exploring all areas of medicine: clinically, learning/teaching, and performing research (clinical) as a part of my Fellowship training. Personally, I enjoy exercise in most all forms, particularly golf, but with COVID-19 I have been spending a lot of time on indoor cycling (Peloton).
I obtained my bachelor's degree in computer science from the University of Nevada, Reno. After which, I worked for several years as a computer programmer building websites and eventually several iPhone/iPad applications. I subsequently returned to school to complete premed courses and eventually went to Ross University School of Medicine. Afterwards, I matched into my pediatric residency at the University of Tennessee School of Medicine in Chattanooga at Erlanger Medical Center. I now am finishing my fellowship training at the University of Louisville School of Medicine and Norton Children's Hospital. In addition to my fellowship training I am pursuing an MBA to more fully round out knowledge in regard to clinical operations and the business side of medicine.
I have a strong interest in T1DM, technology, and exercise. Considering my original degree in computer science, I truly believe that medicine can be more connected with technology and allow for benefits both to patients as well as clinicians. My current clinical research allows me to combine those interests. Additionally, have an interest in the business aspects of medicine and bringing clinical knowledge to the realm of business operations, thus my pursuit of an MBA.
At age 9 I was diagnosed withT1DM. However, my journey towards Pediatric Endocrinology did not truly begin until I was taking undergraduate classes and volunteering as a camp counselor at the diabetes camps that I grew up going to. I found that although I enjoyed working with computers, I did not have the same passion for computer programming that I had for diabetes. Through discussion with the camp medical staff and by exploring my interest in the idiosyncrasies of diabetes, I came to the realization that I should go to medical school with the goal of becoming a pediatric endocrinologist.
The most inspiring individuals to me are the patients that we care for each day. Although they may not be viewed in the traditional mentor role, there is a tremendous amount of knowledge that can be learned from each of their unique experiences and their adaptation to the chronic diseases that pediatric endocrinologists treat.
My family was not in the medical field, thus diabetes pushed me toward our current profession. However, my personal and my family's various life and career experiences have given me a unique perspective and view of medicine. This non-traditional path toward medicine gave me the opportunity to explore other careers, which in turn have shaped how I practice medicine and my eventual goals.