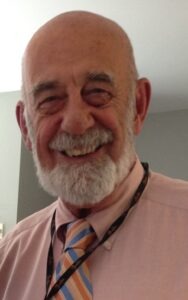 John Scott Parks
October 14, 1939 – December 23, 2021
It is with great sadness that we announce the passing of John Scott Parks MD, PhD.  Parks was an innovative researcher in the genetics and molecular mechanism of growth, a gifted teacher who was a world-renowned lecturer, a kind and gentle pediatrician and a treasured colleague.
John was born and raised in Washington DC.  He completed undergraduate work at Amherst College and medical school at the University of Pennsylvania.  While in medical school, he earned his PhD in Biochemistry under Dr. Ira Pastan. He completed his pediatric endocrine training with Dr. Alfred Bongiovanni at Children's Hospital of Philadelphia. During this time, he was also a Clinical Associate in the Endocrinology Branch at the NCI. Following completion of his training, Parks joined the faculty in Pediatrics and Genetics at the University of Pennsylvania. In 1982 he moved to Atlanta, where he founded the Division of Pediatric Endocrinology at Emory University which he headed for 25 years.  He retired Professor Emeritus with Tenure in 2015. Dr. Parks served on many committees and subcommittees and was past president of the Lawson Wilkens Pediatric Endocrine Society.
Dr. Parks' research interest focused on the cellular actions of hormones, in particular the hormones in the GH axis as well as the role of genes in contributing to variation in human growth.  Although brilliant, Dr Parks never carried an air of intellectualism and was always keen to collaborate. With colleagues from around the globe, Dr Parks described molecular defects including mutations of the growth hormone receptor, the dominant negative effect of GH gene mutations and the role of genes that direct pituitary development specifically Pit-1 and Prop-1. He authored numerous original articles, reviews and book chapters.  Dr Parks was a sought after lecturer and gave more than 50 international lectures which allowed him to combine things he loved: science, travel and interesting culinary adventures.
Dr. Parks would like to be most remembered for guiding and nurturing the pediatric endocrine careers of a generation of fellows from different part of the world.
He is preceded in death by his first wife Georgia Bigley Parks and is survived by his second wife Sydney Waddell Parks, 3 children, 2 step-children, 5 grandchildren and 2 step-grandchildren.
Donations in memory of Dr Parks can be made to  http://give.choa.org/johnparks
Lillian R Meacham, Atlanta (USA)
Michael B Ranke, Tübingen (Germany)