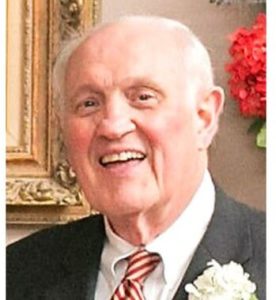 Obituary for Dr. Tom Foley, MD
We are writing to share the sad news that Dr. Tom Foley passed away Sunday in State College at the age of 83.
Many of you had the honor of working with Dr. Foley during his tenure as an endocrinologist and Director of the Division of Pediatric Endocrinology at UPMC Children's Hospital. Many of us, who did not have the fortune of working with him, are aware of and proud of his amazing legacy. Dr. Foley was a giant in the field of Pediatric Endocrinology, a past President of the PES, and a pioneer in pediatric thyroid disease. He developed the TSH filter paper assay for congenital hypothyroidism newborn screening. His efforts and advocacy along with colleagues nationally and internationally led to the institution of newborn screening for congenital hypothyroidism in the US (an estimated 1000 new cases/year) and around the world. He was tapped as an expert in thyroid disorders and provided advice for the treatment of children exposed to radiation in the nuclear accident at Three Mile Island and later became known as "TMI Tom." His expertise was sought for the surveillance and treatment of thyroid disorders after the Chernobyl accident. His contributions have touched and continue to impact the lives of millions of children. Numerous international colleagues, especially in Poland and Belarus, have benefited from his mentorship in establishing their own screening and research programs. You can read a story about Dr. Foley at https://old.post-gazette.com/magazine/20010415foley2.asp.
Dr. Foley was an outstanding clinician and teacher who trained an entire generation of Pediatric Endocrinologists including some of our own faculty. He will be fondly remembered for his humor, warmth, kindness, and commitment to the field.
Tom loved the opera and was a blue grass musician. He was an accomplished guitarist and sang with the Allegheny River Boys. Above all, he was a great human being.
He is survived by his wife, two sons, a daughter, and 10 grandchildren.
Please keep the Foley family in your thoughts.
Donations in his memory can be directed to the Division of Pediatric Endocrinology for Education of Endocrine Fellows at Children's Hospital of Pittsburgh Foundation.
Radhika Muzumdar and Terence S. Dermody