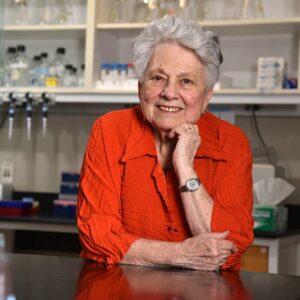 Dr. Barbara Migeon, a pioneer in genetic science, died of heart failure on Jan. 14 at age 91.
She was born Barbara Ruben to Sara Gitin Ruben and Dr. William Ruben in Rochester, New York, on July 31, 1931, and became the sixth female professor at Hopkins.  Dr. Migeon's research focused on X-inactivation, the focus of many of her scholarly articles, as well as her first book, "Females are Mosaics" (2007).
Migeon graduated  from Smith College (1952), obtained her medical degree from the University of Buffalo (1956), and completed her residency at Hopkins thereafter. There she me Dr. Claude Migeon, a founding member of the Lawson Wilkins Pediatric Endocrine Society (now PES) at a Christmas party in 1957. The couple married three years later in Arlington, Virginia.
Dr. Migeon became a faculty member at Hopkins in 1962, and started a laboratory to study the X chromosome and sex differences in disease. She became the sixth female professor of pediatrics at Hopkins in 1978. She counseled many of her women colleagues through her career. The struggles faced by fellow women physician-scientists was a theme of her second book, "American Science: My View from the Bench" (2016).
Survivors include her three children, Jacques, Nicole and Jean-Paul Migeon, four grandchildren; and several nieces and nephews. She was preceded in death by her husband, Dr. Claude Migeon, as well as her younger brother, Robert Ruben, and younger sister Sheila Markim.
The family is planning a memorial service in conjunction with Hopkins, but details have not been finalized.
-excerpt from the Baltimore Sun. For the full obituary:
https://www.baltimoresun.com/obituaries/bs-md-ob-barbara-migeon-20230121-vtej5lu4m5dwxpj2df3ez2uk2u-story.html