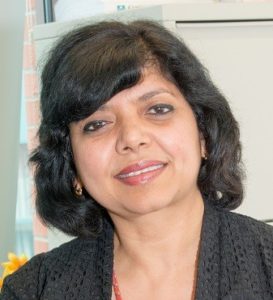 Dear Colleagues,
Spring is here, and with its advent, there is an expectation of positivity, new happenings, and good things to come.  Here in Boston, temperatures are creeping up to 50s and 60s and the first daffodils are now in bloom. Elsewhere in the country, trees are bursting forth their young spring mantle and gorgeous spring blossoms are ablaze, causing passers-by to pause and smile.
For the Pediatric Endocrine Society, there is a sense of expectation in the air. Our annual meeting is just around the corner, and registration is already at record levels and the highest to date, well past numbers from 2020. My very sincere gratitude to our members for showing up and demonstrating your support for our annual meeting. As a reminder, this is our very first standalone meeting given the cancelation of the 2020 meeting, so this is a historical event for the PES.
There has been a steady increase in membership renewals in the past few weeks, though we still need to catch up to the record numbers from last year. So, if you haven't yet renewed your PES membership, please go ahead and do so now, so you can avail the many offerings at the annual meeting and otherwise.
This year, for the first time, in addition to the LWPES plenary, the Blizzard lecture and the Presidential Plenary, the annual meeting will include two international plenaries and a plenary hosted by the Equity-Diversity-Inclusion Taskforce. We have symposia and Meet-the-Professor sessions covering a wide range of endocrine topics, three oral abstract sessions, virtual posters, and virtual Product Showcases (from industry). The annual meeting has been thoughtfully structured by the Program Committee to include something for everybody. Further, intimation has now gone out to members regarding PES Got Talent, a new social event at the annual meeting.
Importantly, March is the National Women in History Month, and it is time for us to celebrate women who have made groundbreaking contributions to pediatric endocrinology over the years. While it is impossible to call out all these women, do read the history tidbits from Alan Rogol and from the Equity-Diversity-Inclusion Taskforce regarding a few of these amazing and very inspiring women. Also, March 30th was National Doctors' Day, and here is a shout out to all of you for being the wonderful, dedicated physicians that you are, and for all that you do for our patients and their families.
As we celebrate spring and look forward to our annual meeting, there are worrying events around the country that give us pause- the shootings in Georgia and Colorado, the racism against Asian Americans and other communities of color, the impending legislation in Alabama that seeks to make gender affirming hormone therapy (including the use of puberty blockers) for transgender and gender diverse youth illegal, the immigration crisis at our border- there is much that still needs to be set right.
The PES stands by the AAP in its stance against gun violence. Further, as previously indicated, the PES values diversity, equity, and inclusion among its core values, and we have a zero-tolerance policy for racism or any form of intolerance. We aim to be the voice of reason, to teach by example, and empower each other and our next generation to be part of a change that will endure and make this country and world a better place for all. Do recognize and speak up against racism whenever and wherever you see this, and empower those around you to do so as well. To that end here is the mission statement of our Equity-Diversity-Inclusion Initiative:
To affirm the ideology of the PES as a scientific community that fosters inclusion, acceptance, and support for every person independent of race, ethnicity, gender, sexual orientation, or religion. Towards this end, our focus is to:
Recognize implicit and explicit bias in healthcare in Pediatric Endocrinology, and address related healthcare disparities that affect our patients and families, through research, quality improvement, health delivery science, education, and outreach efforts.
Foster equity and diversity and provide an environment of equality and mentorship for all trainees, fellows, and faculty in Pediatric Endocrinology.
Further, regarding the impending legislation in Alabama, Arkansas and other states banning gender affirming hormone therapy for transgender children (including use of puberty blockers) (https://www.cbsnews.com/news/alabama-senate-bans-hormone-therapy-surgery-felony-transgender-youth/), the PES Board of Directors together with the Transgender SIG have agreed that the PES will sign on to an Amicus brief against this legislation should this come to pass. We are in the process of preparing a statement that indicates our position in this regard, our support for our colleagues in Alabama, Arkansas and other states with similar pending legislation, and our concern for the children who will be adversely impacted by such laws. Our job is first to do no harm, and based on available scientific evidence to date, we continue to support the guidelines for care of transgender and gender diverse youth as laid out by the Endocrine Society and the PES.
In fact, our LWPES plenary talk will be given this year by the Whittington family about bringing up Ryland, their transgender son. Such personal stories sometimes bring home the issues faced by transgender and gender diverse youth and the triumph of appropriate and coordinated medical care more than scientific papers or guidelines ever could. Kudos to Erica Eugster, our immediate Past President, for coming up with this idea for the LWPES lecture (initially planned for 2020).  We are also very grateful to the Whittington family for being willing to move this lecture to the 2021 meeting, given the cancelation of the 2020 meeting.
Finally, let us take a moment to think about the immigrant children walking to the border all alone without their parents, and the complete desperation that must cause parents to take this extreme decision. Our best wishes to those who are working to resolve this complex humanitarian issue.
There is so much going on in this country and the world that I sometimes wonder how future generations will view the history of our times. At the very least, I hope that if we hold ourselves to the highest standards of goodwill and kindness, and demonstrate humility for what we know and what we do not, when these generations analyze our actions, they will pause and agree that we tried – tried to be as kind as we could and to uphold humanity the best we could.
Yours sincerely,

Madhu
Reoccurring columns and additional news:
ADA Imagine Camp program
ADA's Imagine Camp (provided at no-cost to families) is designed to facilitate an at-home, virtual experience connecting kids with Type 1 diabetes and families. Campers will make new friends and learn new diabetes management skills that build confidence. Offered Monday through Friday, with daily 1-hour virtual meetups for kids ages 5–17! Registration is now open at www.diabetes.org/imaginecamp
MOC Part 2 self-assessment activity; Precocious Puberty
The Pediatric Endocrine Society (PES) and the American Board of Pediatrics (ABP) collaboratively developed a new MOC Part 2 self-assessment activity titled, Precocious Puberty. Successful completion is worth 15 MOC Part 2 credits and 6 CME credits. Puberty is a universal experience with profound implications for adolescents' physical and emotional functioning as well as long‐term sexual and reproductive health. This online activity takes the learner through a structured, self-paced process that focuses on recognizing and defining precocious puberty, as well as the essential components of a focused physical examination that may be used to evaluate a patient with precocious puberty. This activity is available to all board-certified pediatricians within ABP's online catalog and is accessible through each pediatrician's ABP portfolio.
INSPIRE Module, Spring 2021…EARLY-BIRD REGISTRATION IS OPEN!
Registration for the upcoming PES Leadership Advantage (PESLA) INSPIRE module is officially open, and early-bird registration is available until April 5th.  PESLA provides physician leaders with the core skills key to becoming impactful voices at the leadership table.  It is made up of four separate modules: Influence, Engage, Inspire and Envision.  These modules may be completed in any order.  Click here for registration details https://pedsendo.org/pes-leadership-advantage-pesla/
Fellow Spotlight
Puja Singh, MD pediatric endocrinology fellow, UT Southwestern in Dallas, TX.
https://pedsendo.org/member-spotlight/fellow-spotlight/puja-singh-md-fellow-spotlight/
MAP Spotlight has NEW Content!
This portal has everything from important results of clinical trials, educational sessions on rare conditions, demonstrations of newly approved products, a new angle to, or new summative information about existing products or guidance regarding product use or administration.
We invite you to look around and get up to speed on the latest information from our partners. Once you have visited the site you will be able to enter the raffle for a chance to win $200 in PES Bucks that can be redeemed for membership dues or meeting/course registration! The more alliance partners you visit, the better chance you have of winning! Click here to start your exploration: https://pedsendo.org/about-pes/mission-alliance-partners-map/pes-mission-alliance-partner-spotlight/
Note from the Nominating Committee:
As we look toward the future in these unusual times, the Nominating Committee will be expanding its role to promote leadership at all levels of the PES.   The spring meeting and the nominating season (see timeline below) are fast approaching, and we would like to encourage our Committee Chairs, SIG leaders and other organizational leaders to identify those PES members who may need encouragement to become new committee members or future committee/SIG leaders.  In addition, please think about succession planning in your committees, as well as the organization as a whole.  Some members may need encouragement to accept nominations for membership on the Board of Directors.
The Nominating Committee looks forward to the election season in the fall and will be posting FAQs for each Board position on the website later this spring. We hope that everyone will look out for the Call for Nominations in July 2021 and nominate colleagues who you feel would positively contribute to the future of the PES. And please vote in the Election in November! Thanks to all for your contributions to the PES! The PES Nominating Committee
Women's History Tidbits
Dorothy Mary Crowfoot Hodgkin (May 12, 1910-July 29, 1994)
Alan D. Rogol MD, Ph.D
https://pedsendo.org/historical-tidbits/historical-tidbit-dorothy-mary-crowfoot-hodgkin/
Eleanor Colle (MacLean) (January 27 1926-June 2, 2015)
Alan D. Rogol, MD, Ph.D
https://pedsendo.org/uncategorized/historical-tidbit-eleanor-colle-maclean/
EDI celebrates National Women in History Month by saluting the following women:
Basic scientists: Rosalyn Yalow (1921-2011) of RIA fame, and Gerty Cori (1896-1957) of Cori cycle fame.
Pediatric Endocrinology: Priscilla White (1900-1989) for diabetes and Selna Kaplan (1927-2010) for endocrinology.
We are indebted to these women for their brilliance, dedication, mentorship, and remarkable contributions to advancing the field of endocrinology and diabetes. https://pedsendo.org/education-events/equity-diversity-and-inclusion-initiative/