Publication Date
February 16, 2021
Hypoparathyroidism: A Guide for Families
What is hypoparathyroidism?
Calcium is essential for the functioning of your body's nerves, muscles, bones, and cells.  Therefore, the body monitors and tries to keep levels of calcium, and the related mineral phosphorus, normal at all times. An important hormone to regulate these levels is parathyroid hormone (PTH).
Hypoparathyroidism is an endocrine disorder that occurs when there is an issue with PTH not being produced in sufficient quantity or not working properly to keep blood calcium and phosphorus levels in the normal range.  Parathyroid hormone is produced by the parathyroid glands, which are 4 small glands that sit behind the thyroid gland in the neck.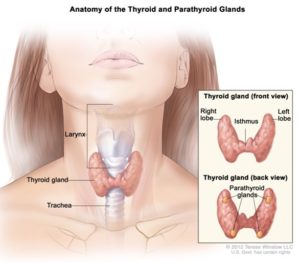 Parathyroid hormone helps the kidney remove extra phosphorus from the body. Children with low PTH levels or function (hypoparathyroidism) typically have low blood calcium and high blood phosphorus levels.
What causes hypoparathyroidism?
Hypoparathyroidism can be present at birth or it can develop later; the former is called congenital hypoparathyroidism and the latter is known as acquired hypoparathyroidism. Some babies may be born without parathyroid glands, with under-developed parathyroid glands, or with an inability to make or use parathyroid hormone. Hypoparathyroidism may either be temporary, called transient, or permanent. Certain types of permanent hypoparathyroidism can be associated with other medical conditions or syndromes, such as DiGeorge Syndrome.
Transient hypoparathyroidism can be related to an illness, infection, or stress and will eventually improve. Newborns may have transient hypoparathyroidism as their glands "wake up" and begin to function normally. Some patients develop hypoparathyroidism during childhood, adolescence, or adulthood. In some patients, the parathyroid glands are destroyed in autoimmune disease which can be associated with the presence of specific antibody proteins; this can cause acquired hypoparathyroidism. Hypoparathyroidism can also occur due to trauma, medications, infections, radiation, or surgery, especially following removal of the thyroid gland. Some patients with a low blood level of magnesium can also develop hypoparathyroidism. Occasionally, hypoparathyroidism results from resistance to PTH hormone due to a rare genetic condition called pseudo-hypoparathyroidism. In pseudo-hypoparathyroidism, the parathyroid glands can make PTH, but the body's tissues cannot respond to this hormone.
What are the signs and symptoms of hypoparathyroidism?
Patients with hypoparathyroidism can develop symptoms from low calcium levels. Short-term symptoms of low blood calcium levels include fatigue, tingling (particularly around the lips and in the hands and feet), numbness, difficulty breathing, muscle weakness, muscle cramps or spasms, muscle twitching, convulsions, and abnormal heart rhythm. Long-term consequences of low calcium levels can include depression, poor memory, hair loss, brittle nails, teeth abnormalities, poor growth, developmental delay, cataracts and calcium deposits in the brain. Children with hypoparathyroidism have an increased risk of lower calcium levels when they are sick and should seek medical attention right away if any of the above symptoms occur.
How is hypoparathyroidism diagnosed?
Children may present with signs and symptoms of hypoparathyroidism as described above.  A doctor may also notice muscle spasms with certain tests or abnormal heart rhythms.  Other children may come to medical attention if a blood test shows low blood levels of calcium and elevated blood levels of phosphorus. The blood level of PTH, which should normally be high when calcium levels are low, will usually be low in children with hypoparathyroidism even though their calcium levels are low. However, the normal ranges of these minerals and hormones can vary with age. Therefore, the diagnosis should be made in consultation with a pediatric endocrinologist. Typically, there are no X-ray changes in this condition although some patients with pseudo-hypoparathyroidism can have abnormal findings on X–ray. Your endocrinologist will decide whether genetic evaluation is indicated, as hypoparathyroidism may be a feature of a genetic disorder such as DiGeorge Syndrome. Your doctor will also test for any kidney problems as these may be complications of treatment with hypoparathyroidism.
How is hypoparathyroidism treated?
Hypoparathyroidism is treated with oral calcium supplementation along with an active form of vitamin D called calcitriol. The dose is generally adjusted according to the blood calcium and urine calcium levels. Magnesium supplementation may also be needed in those with low blood level of magnesium.  In special situations a synthetic form of PTH can be used for treatment of hypoparathyroidism. Overtreatment with calcitriol (or other forms of vitamin D) and calcium can cause high calcium levels in blood and urine and, possibly, kidney stones.  Calcium levels may also fluctuate in times of stress and illness. In general, maximizing calcium and vitamin D in the diet is encouraged.  Your doctor will monitor your child's calcium, phosphorus, magnesium, and vitamin D levels to keep these important substances in a safe range. When the blood level of calcium is very low or if the child has severe symptoms related to low calcium, your doctor may decide to give intravenous (IV) calcium to your child.
Close follow up with your endocrinologist is very important. You should contact your doctor if your child has concerning symptoms or with any additional questions.