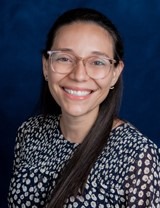 Ana Menendez, MD
My name is Ana Menendez and I am a third-year pediatric endocrinology fellow at the University of Connecticut, Connecticut Children's Medical Center. I obtained my medical degree from Universidad, Dr. José Matías Delgado in El Salvador and completed pediatric residency at Flushing Hospital Medical Center in Queens, New York. During residency, I worked on health literacy and parental perception of childhood obesity in a multiethnic community hospital. This experience helped me discover my passion for Endocrinology especially in the field of obesity along with developing a deep interest in working with patients from different ethnic backgrounds. As a pediatric endocrinology fellow, in addition to gaining clinical experience, I am conducting translational research under the mentorship of Dr. Christine Finck. We have been studying adipocyte physiology and conformational changes in morbidly obese patients undergoing bariatric surgery at the weight management program. I authored a review article "Obesity and Adipose Tissue Dysfunction: From Pediatrics to Adults" (Genes, October 2022). My focus has been understanding the chronic inflammatory state that patients with obesity develop and to discover how early immune modulators function in patients with obesity. Findings of my research were presented at PES titled "Peripheral blood mononuclear cells lineage and lipopolysaccharide induced activation potential in childhood obesity" in San Diego in May 2023.
I was happy to present two presidential posters at San Diego in May, 2023. One was on the modified McGill Thyroid nodule score in assessing the risk of pediatric thyroid cancer and a second one with Dr. Christine Trapp showing significant BMI z-score improvement in a rare patient with hyperphagia and genetic obesity from BDNF mutation treated with topiramate and lisdexamfetamine.
I am proud to be part of the endocrine division at Connecticut Children's Medical Center/University of Connecticut Health Center where empathy and inclusion is key. I have served on the Diversity and Inclusion Committee at our hospital since 2021 and I started to participate in the PES diversity and inclusion task force as an active member. To address needs for minorities in our rare bone clinic, I founded a support group for minority families affected with osteogenesis imperfecta and have developed Spanish handouts for endocrine conditions in our division. I am thankful to my program director, Dr. Rebecca Riba-Wolman and division chief, Dr. Emily Germain-Lee and all my wonderful endocrine faculty who have encouraged me and supported me during fellowship. I am excited to continue as a part of the Connecticut Children's endocrine family as a faculty member, following my graduation, and be able to continue to work on adipose tissue as a endocrine organ and understand how early onset obesity involves a series of conformational changes that can lead to early co-morbidities such as insulin resistance and T2DM. As a junior faculty member, I will be starting in a Diversity, Equity and Inclusion Leadership Track through the University of Connecticut Health Center to support my continued work in raising awareness in diversity and inclusion.