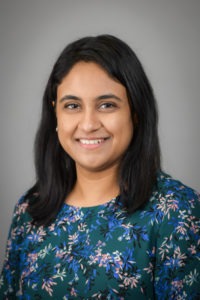 Puja Singh, MD
I am a first year pediatric endocrinology fellow at UT Southwestern in Dallas, TX. I grew up in northern Illinois. I completed my undergraduate degree at University of Kentucky, Lexington, and received my MD from University of Cincinnati College of Medicine. My pediatrics residency was at Medical College of Wisconsin/Children's Wisconsin in Milwaukee. Currently as a first year fellow, I primarily spend my time with clinical responsibilities such as inpatient service or consults, as well as outpatient visits.
I hope to continue to work in an academic center and work with learners of different levels. I enjoy incorporating education into my practice, whether is during rounds, or focusing on specific topics with the residents and medical students. Some of my clinical interests include Type 1 diabetes and transgender care, but I am drawn to the wide variety of diseases within endocrinology.
During my intern year, I participated in an endocrine elective, which sparked my interest. I was drawn to the physiology of endocrine disorders, and the intricate feedback loops and mechanisms. I also was drawn to the continuity of care, and the close therapeutic relationships that develop between patients and their endocrinologists.  One of my mentors is Dr. Bethany Auble at Medical College of Wisconsin, as she supported my interest in endocrinology, gave excellent advice, and is a wonderful teacher. She also helped connect me to Dr. Pete Wolfgram, to work on QI project during my residency. At UTSW, I am grateful to Dr. Ahba Choudhary, who has been a support during my first year of fellowship.