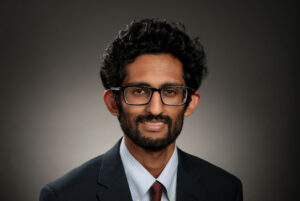 Gajanthan Muthuvel, MD
 What is your current position/how do you spend your time?
I am a third year Pediatric Endocrinology fellow at Cincinnati Children's Hospital.  I'm originally from Oshkosh, WI and completed medical school at the University of Wisconsin of Medicine and Public Health in Madison, WI, followed by Pediatric Residency at Mayo Clinic in Rochester, MN.  I was drawn to Cincinnati for fellowship due its strong clinical reputation and vast research opportunities.
What are your interests? (clinical, research, educational, etc)
As a fellow, I have been fortunate to participate in a wide variety of fascinating research opportunities, including a myriad of clinical trials involving genetic short stature conditions and emerging growth interventions, as well as studies focusing on Type 1 diabetes and diabetes technology. For my career, I hope to continue clinic care involving a fairly broad scope of Endocrine disorders, while further developing a niche in the evolving evaluation and treatment of growth disorders, incorporating clinical and translational research.
What inspired you to choose pediatric endocrinology as a career?
             I was intrigued by the prospect of working in different clinical care settings (outpatient, inpatient, ICU, etc), developing longitudinal relationships with patients/families with chronic diseases, and opportunities for myriad research endeavors.  I would also highlight influence from positive experiences during early exposures to the field starting in medical school, and solidified by multiple opportunities in training subsequently.
Were there any mentors that were particularly inspiring to you along the way?
There have been several mentors along the way, but to highlight a few, I would certainly include Dr. Philippe Backeljauw.  He has been integral not only in providing guidance as fellowship director, but also suggesting avenues to develop one's own clinical and research interests with the goal of successful career development.  Dr. Sarah Corathers has not only been a positive influence for me as a research mentor, but someone who has demonstrated how to lead a clinical and research career encompassing quite a wide scope of endocrine disorders, while incorporating aspects of quality improvement, family advocacy, and collaboration with multiple institutions to improve knowledge and care, that is truly inspiring.  Dr. Nancy Crimmins has been a wonderful clinical mentor for me, and someone who has been a great example of promoting the education of students and trainees, including early and diversified clinical experiences.  Certainly, none of this would be possible without the steadfast leadership of Dr. Lawrence Dolan, who not only is highly respected in the field of diabetes and diabetes research, and long served as division director and guiding figure within the institution but demonstrated a care for fellows and others within the division that I hope to emulate going forward.