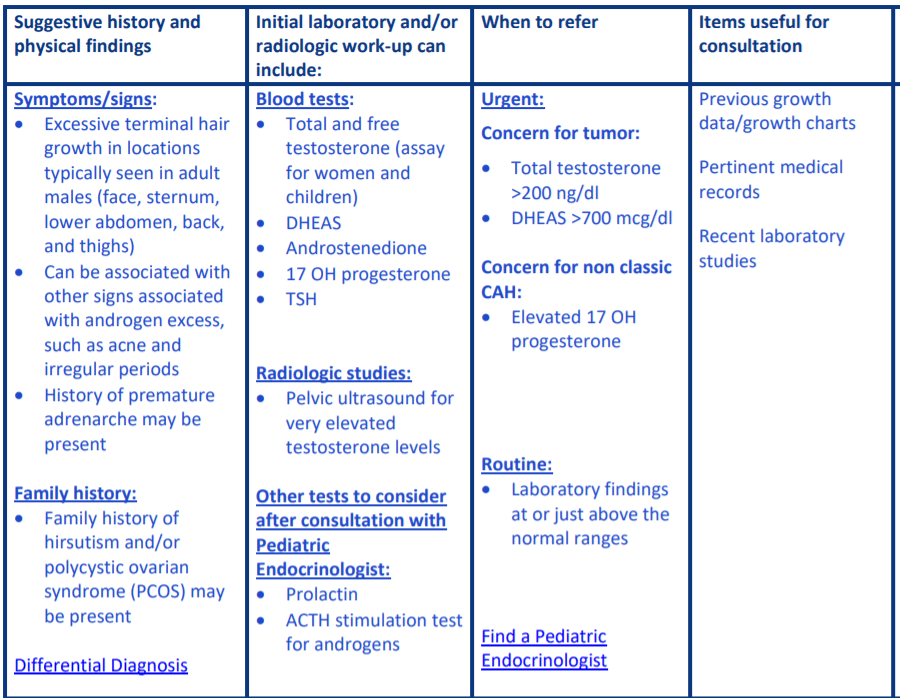 Differential diagnosis of Hirsutism:
Physiologic hyperandrogenism of puberty
Idiopathic hyperandrogenism
PCOS
Less commonly:
Congenital Adrenal Hyperplasia (CAH): late onset CAH, mild CAH, non classic/virilizing CAH
Androgen secreting tumors of the adrenal glands or ovaries
Hypothyroidism
Cushing's disease
Severe hyperprolactinemia
Hypertrichosis
Exposure to androgenic drugs
Additional Information:
Hirsutism affects 5–10% of reproductive-aged females
Diagnosis of hyperandrogenism can be based on clinical symptoms or measurement of serum androgens. In females, androgens originate from three primary sources: (1) the ovarian theca, (2) the adrenal cortex, and (3) within end organs by peripheral conversion.
The American College of Obstetricians and Gynecologists makes the following recommendations and conclusions:
Pelvic ultrasonography is not routinely indicated unless serum androgen levels or the degree of virilization is concerning for an ovarian tumor.
Multimodal therapy is the most effective approach to the treatment of hirsutism; this includes lifestyle changes, physical hair removal, and androgen suppression or blockade with medication that slows or prevents new hair growth.
If hormonal therapy is initiated, patients should be counseled that it may take >6 months before they see the benefits of treatment.
Patients should be assessed at routine intervals (every 3–6 months) for adverse effects and response to treatment until their condition is stable; they then should be monitored annually.
Monitoring serum androgens is not recommended.
Suggested References and Additional Reading:
https://www.acog.org/Clinical-Guidance-and-Publications/Committee-Opinions/Committee-on-Adolescent-Health-Care/Screening-and-Management-of-the-Hyperandrogenic-Adolescent?IsMobileSet=false