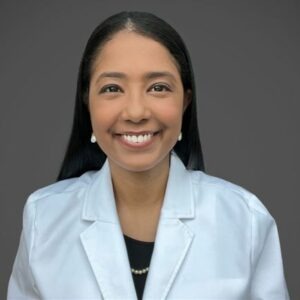 Kara Beliard, MD
I am a 3rd-year Pediatric Endocrinology Fellow at the Kravis Children's Hospital at Mount Sinai, NYC. My time is shared between patient care and basic science research. I am honored to be a part of the Diabetes Obesity and Metabolism Institute of Mount Sinai, where under the guidance of my mentor Dr. Adolfo Garcia-Ocana; I study Beta-cell regeneration using DYRK1A inhibitor in diabetic model mice. This project was awarded the Endocrine Fellows Foundation grant in 2021 and I have been fortunate to present our work at multiple national and international conferences, including the 2022 ADA and PES conferences.
I grew up in Haiti and moved to the Dominican Republic while young. I studied medicine at the Pontificia Universidad Catolica Madre y Mestra. I then moved to New York City for my General Pediatric Residency, and later on, my Subspecialty training in Pediatric Endocrinology.
My interest in Endocrinology started at a very young age, growing up with multiple family members affected by diabetes and obesity. I was significantly involved in my grandfather's care, from his diagnosis of diabetes to his complications of end-stage renal failure. This experience has truly deepened my desire, strive, and commitment to care for vulnerable patients with this disease. It motivated me to target my research and clinical interest in pediatric endocrinology and, most importantly, pediatric diabetes mellitus.
I have had several excellent mentors during my training. One that is very dear to my heart is Dr. Robert Rapaport from my clinical pediatric endocrine team at Mount Sinai. He has been an integral part of my clinical education, always keeping me motivated to learn and participate in various educational opportunities in our field. Our division chief, Dr. Joan Han, always leads by example and is a wonderful teacher. And finally, my program director, Dr. Christopher Romero, has been a great support system during my last stretch of training before becoming a full-fledged pediatric endocrinologist!